So Aroldis Chapman is looking like the old Aroldis Chapman again.
In Saturday's 3-1 win against Texas, Chapman came in to close out the game and he did so in 13 pitches by getting Elvis Andrus to ground out and striking out both Nomar Mazara and Mike Napoli swinging.
According to Brooks Baseball, Chapman threw three sliders and 10 fastballs and you can see how he mixed his pitches in this graph.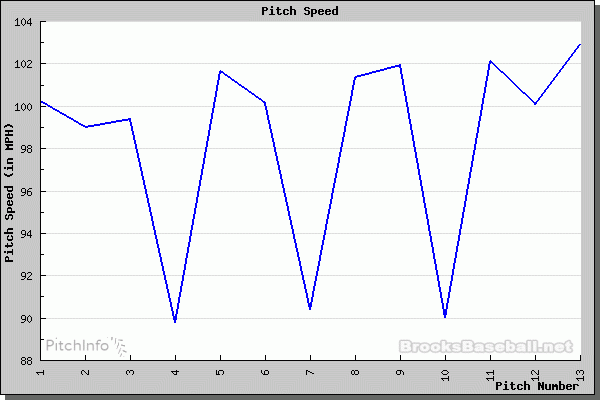 Out of the 13 pitches Chapman threw, 11 of them were strikes.
You can also see that he saved his fastest pitch for last which produced a swinging strike to end the game courtesy of Mike Napoli. Now, to be fair, Napoli was batting .194 heading into the at bat and it was his 159th strikeout but it was still a good sign from Chapman who had been getting a lot of contact on his pitches before he got the closer's job taken away from him.
Chapman has looked much better of late. In his last three outings, he's struck out six batters in three innings of work and has only given up one hit. In even more encouraging news, he's only given up one run in his last six appearances and has only walked one batter in his last five 2/3 innings of work.
These are signs that perhaps it is time for Chapman to be the closer again.
Photo Credit: Tim Heitman / USA TODAY Sports