After a short hiatus, About Last Night is back. And with the way this season is shaping up, the next six weeks are going to be pretty exciting… SG
We can all agree that Friday night's game was bad for the Yankees and their bullpen. Three Yankee relievers—Chad Green, Tommy Kahnle, and Aroldis Chapman—allowed six Red Sox runs on six hits in three innings of work with righty Kahnle's appearance turning out to be the worst of the three. He struggled to get two outs in the seventh inning and he gave up his two runs on three hits with a walk thrown in for good measure.
Kahnle's biggest mistake came when Red Sox manager John Farrell decided to pinch hit lefty Mitch Moreland for righty Chris Young with the bases loaded and two outs. Kahnle got Moreland down 0-2 quickly on two changeups. One was high in the zone and the second one was a pitch that Moreland swung through and missed badly.
Now, major league hitters make major league adjustments and usually, major league pitchers mix their pitches to keep those hitters off-balance, right? Especially in a big spot like this: bases loaded, two outs, with the Yankees were clinging to a 6-5 lead and one strike away from escaping this jam. But everyone watching the game, both on TV and in the stands of Fenway Park, could see it coming from a mile away. Moreland also saw it coming from a mile away and when Kahnle delivered his third pitch, inexplicably, another changeup, Moreland laced a single into centerfield scoring both Eduardo Nunez and Andrew Benintendi and the Red Sox reclaimed the lead, 7-6.
So the $64,000 question is why on earth would catcher Austin Romine and Kahnle opt for a third changeup in a row instead of a fastball with two strikes and two outs with the Red Sox threatening? Why wouldn't Kahnleat least try to get Moreland to chase a high fastball?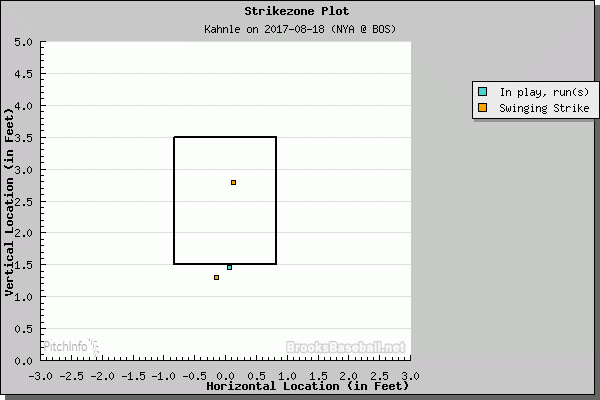 The yellow dot just below the zone was the 0-1 changeup Kahnle got Moreland to swing through. The green dot slightly above it is the ball he hit for the two-single to put the Red Sox up 7-6. Look at how similar the two pitches are. No wonder Moreland was able to hit the 0-2 pitch for a single.
Both Benintendi and Nunez, who scored on Moreland's hit, also singled on Kahnle changeups so again, why throw it in that spot against Moreland? And when Larry Rothschild visited the mound when Farrell was making the switch to his lineup, what did he say to Romine and Kahnle? I really hope it wasn't, "Throw more changeups!"
**
One thing I noticed when looking at Kahnle's stats is that his fastball usage has decreased all season and it has dipped a lot since June while his changeup and slider have switched places a couple of times as his second pitch.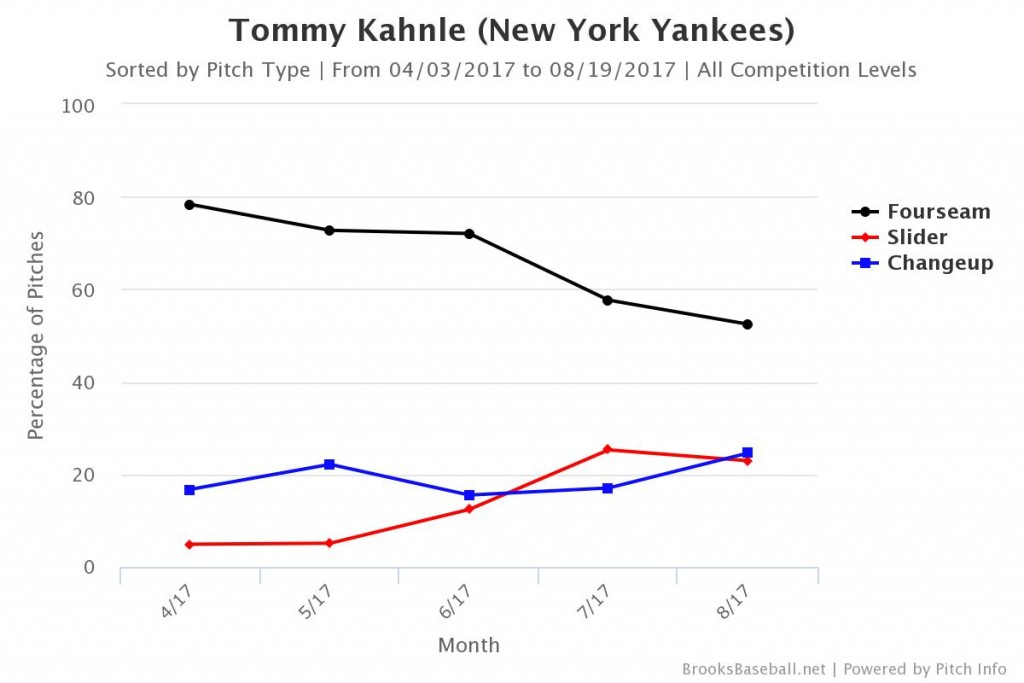 Right now he's throwing more changeups than sliders again and as we saw on Friday night, that might not be a good thing.
But, while his usage has changed a bit, the velocity on his fastball and changeup has stayed pretty steady. His slider velocity, on the other hand, has decreased but that could be a good thing. When a pitcher has a 97 mph fastball and an 85 mph slider, he can keep batters guessing. Hey, there's an idea.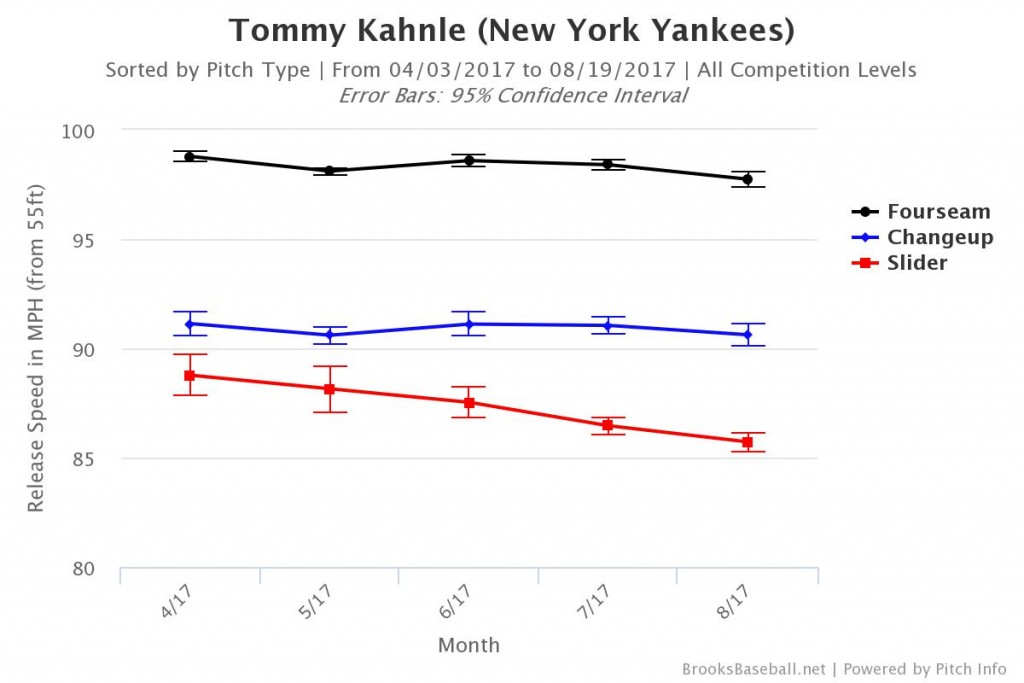 So while there were many reasons why the Yankees lost to the Red Sox on Friday night, including more issues with runners in scoring position and guys coming up small in big spots at the plate, Tommy Kahnle's change up of doom was definitely the dagger.
Photo Credit: David Richard / USA TODAY Sports