Dellin Betances is a ridiculous talent. He is a create-a-player type you would craft up in MLB The Show. Who wouldn't want a 6'8 reliever who routinely touches 100 mph and offsets that with a nasty breaking pitch?
His freakish build and dynamite fastball-curve combo have helped him anchor a position in the Yankees bullpen for four years now. For the most part, Betances has eviscerated opposing hitters, and throughout his career, the sheer nastiness of his pitches has helped mask command issues.
However, periodic blips have dotted Betances's radar, bloating his ERA during select stretches of play. His most recent pitching slump lasted from June 22 to July 5. During that stretch, Betances threw 4 2/3 innings, allowed nine earned runs and walked 12 batters. A simple reasoning for this struggle is a loss of command. I compared his pitch outcomes from Opening Day until June 21 with his outcomes from June 22 to July 5.
(April 1 – June 21)

(June 22 – July 5)

Luckily for the Yankees, Betances has recovered. When looking at his pitch outcomes since July 6, you can see that the righty reliever has improved both fastball and curveball command. He's not getting as many whiffs as he did near the beginning of the season, but that has not impacted his effectiveness.
(July 6 – August 11)
Betances' favorite spot is the lower outside corner on the right half of the plate. This is where his curveball digs in against lefties and forces righties to chase. He also paints his four-seamer in that location as well. During his mid-season slump, Betances had a difficult time hitting that spot. But since July 5, he has been painting that corner.
(June 22 – July 5)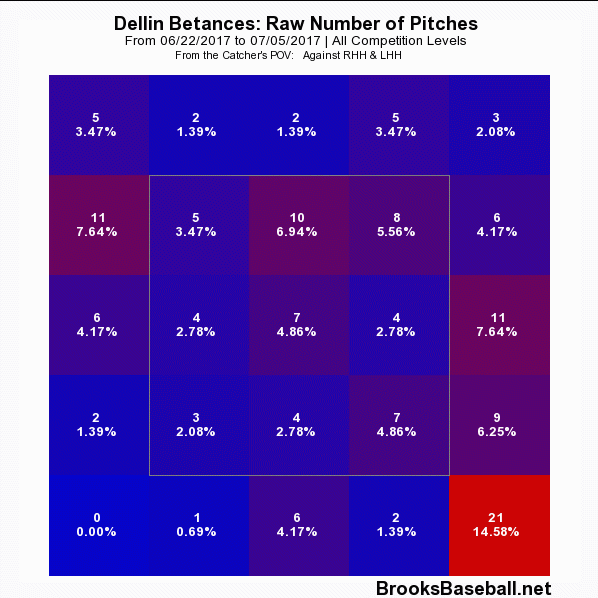 (July 6 – August 10)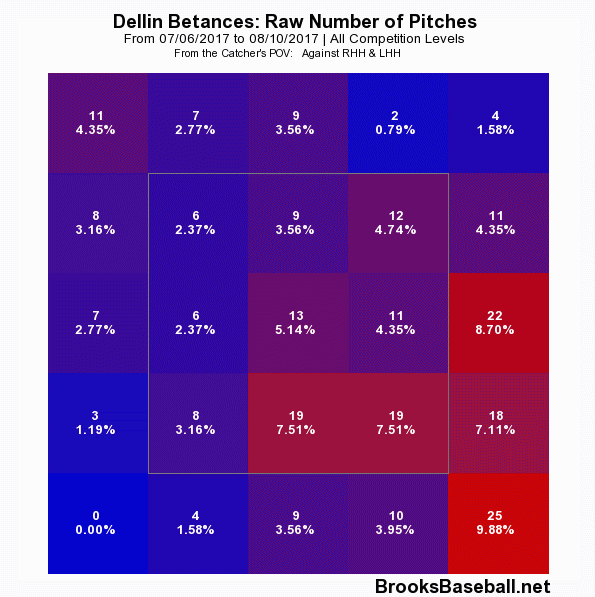 His better control has paid dividends on the stat sheet. Opposing batters are hitting just .137 in Betances' 15 innings since July 6. Since that stretch, he is posting a 1.20 ERA.
Don't get me wrong, Betances still struggles with command. In those 15 innings, he has allowed 10 walks. His current BB% of 17.5 percent leads all relievers in the Majors. But when he is on, his stuff masks the command issues, as mentioned before. Betances' K% of 41 percent is fourth among relievers in the Majors. He is the equivalent of a home run-hitting, strikeout machine whose production outweighs his strikeouts.
With a re-tooled bullpen, a lethal version of Betances makes the late innings look a lot scarier for opposing teams and fortunately for the Yankees, it looks like Dellin's got his groove back.
Photo Credit: Wendell Cruz / USA TODAY Sports