Let's not sugarcoat things. CC Sabathia has not looked good in his last three starts, and on Wednesday night against the Blue Jays it was more of the same.
In his first three starts Sabathia went 2-0 while only giving up three earned runs in 18 1/3 innings. He held opposing batters to a .182 average and only allowed one home run. In his last three starts, Sabathia is 0-1 and yielded  17 earned runs in 14 2/3 innings. Opposing batters are teeing off against him batting .359 and they have hit five home runs. One positive to take away from Sabathia's last three starts is that he's still striking out batters more than he's walking them but not by much. He has 14 strikeouts compared to eight walks. He struck out six and walked four on Wednesday.
So what went wrong for Sabathia on Wednesday? He was victimized by a fastball that wasn't doing much and he ended up surrendering the first four runs with two outs in the first inning.
He gave up singles to Kevin Pillar and Jose Bautista to start the game. Then he struck out Russell Martin and got Kendrys Morales to fly out and it looked like Sabathia would escape without surrendering any runs. Then the Jays got to him—Justin Smoak singled home Kevin Pillar and Yankee killer Steve Pearce hit a three-run home run to put Toronto up 4-0.
Pearce's home run was off a fastball that was high in the zone.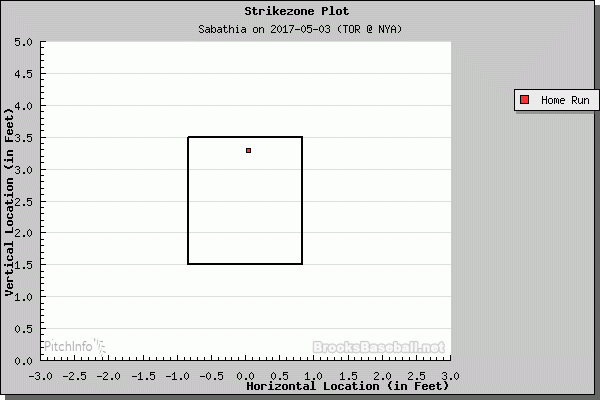 Sabathia got Devon Travis to line out to end the inning.
In the second inning, things didn't get much better for Sabathia. He gave up a double to Darwin Barney on a 92.4-mph fastball. Again, it was a pitch high in the zone and Barney made good contact.
Ryan Goins singled and Barney got to third. Sabathia got Pillar to ground out which advanced Goins to advance to second. Sabathia then walked Bautista on six pitches.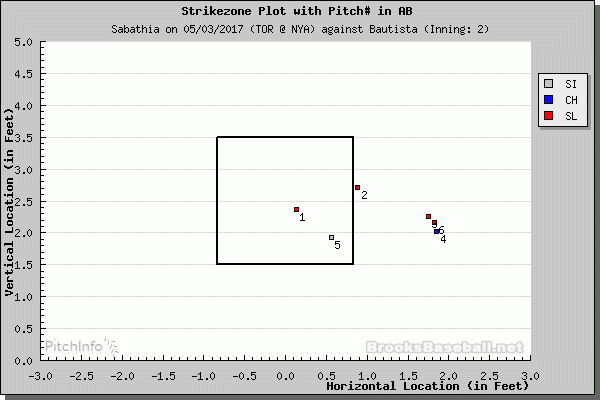 He followed that up with another walk to Martin and force in the fifth run of the game. In the next at-bat, Morales hit into a force out and Goins scored the sixth run.
Sabathia stopped the scoring there. He pitched two more scoreless innings and was pulled from the game in the fifth after he walked Martin and surrendered a single to Morales.
His cleanest inning was the top of the fourth when he struck out the side: Goins and Pillar were called strikeouts while Bautista struck out swinging. Sabathia relied on his slider more than his other pitches and the batters couldn't touch it.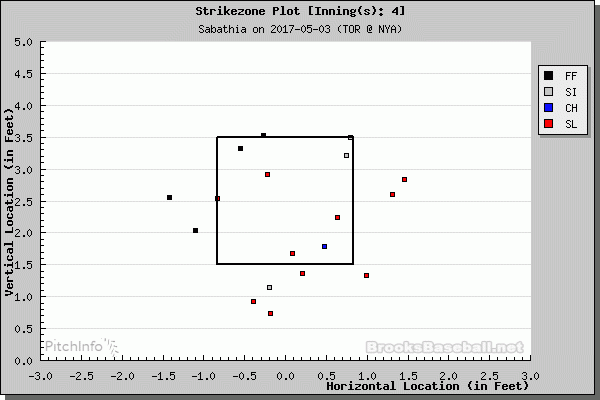 Sabathia's final line: 4.0 IP, 7H, 6ER, 4BB, 5K and 1 HR. He threw 84 pitches and only 48 were for strikes.
So what needs to happen for Sabathia to go back to the way he was pitching to start the season? He needs to get his slider working like it did in the fourth inning of Wednesday's game.
In April, Sabathia relied more on his sinker, slider and cutter and it worked for him.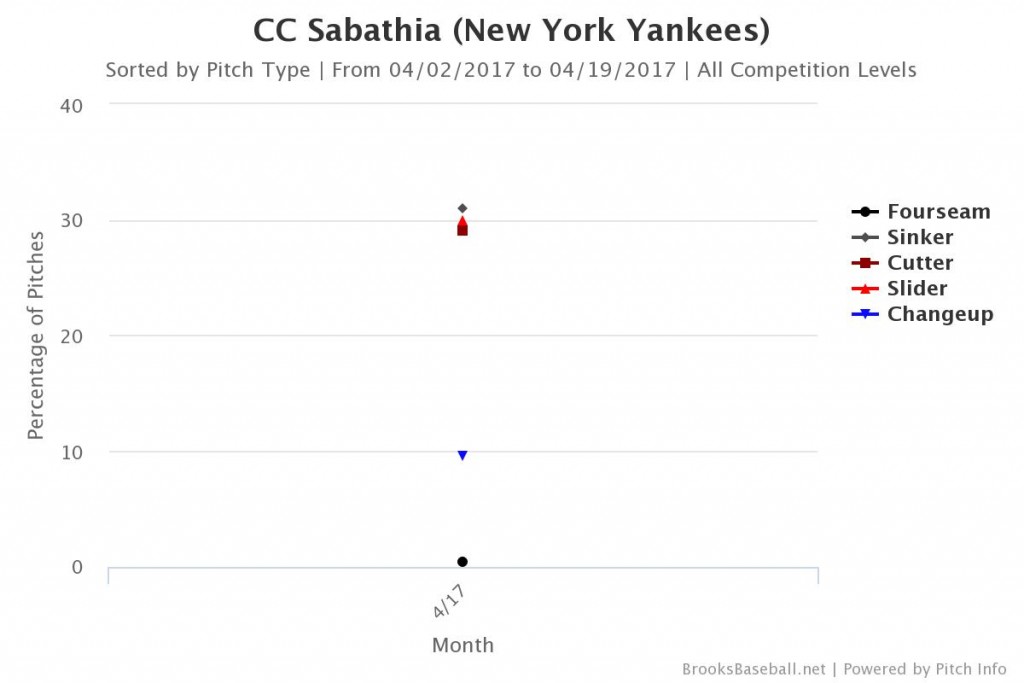 After the game, he told reporters that he felt good in his bullpen before the game and in his side session this week but on Wednesday night, he couldn't command the inside part of the plate. He added that not having command of the inside part of the plate is what has caused his bad performance over the last three starts.
Luckily for Sabathia, his teammates bailed him out with another come from behind win, but he needs to find his command of the inside of the plate again or it will be a long rest of the season for the veteran lefty.
Photo credit: © Brad Penner / USA TODAY Sports