If you were watching the ninth inning of the Yankees' Tuesday night game against the Tampa Bay Rays (which, hooray, the Comcast customers among us can finally do now), you may have seen closer Aroldis Chapman do this to Rays second baseman Brad Miller:
Aroldis Chapman threw an early contender for Pitching GIF of the First Half with this 90mph Slider to Brad Miller yesterday pic.twitter.com/OGFyVJEWmI

— Pitcher List (@ThePitcherList) April 5, 2017
Two things about this particular pitch: (1) As silly as Chapman made Miller look, that's certainly much better than any of us would do in that spot; and (2) sliders from Chapman like that one will be a major factor in his continued success in the coming years.
Obviously, Chapman (who turned 29 in February) has made his living off his other-worldly fastball while mixing in his slider and changeup to keep hitters off balance. His secondary offerings—even if they are not executed perfectly—can make hitters look foolish since they typically are gearing up for 100 mph+.
However, the left-hander's slider has been an elite pitch in its own right over his career. From 2010–16, opposing batters hit just .100 (24-239) with a .059 ISO against Chapman's slider, which he threw a little over 16 percent of the time during that span. Batters aren't hitting poorly against the offering just because they're getting fooled by not getting the fastball; the pitch is also thrown hard (87.6 mph average in his career) and with some serious movement. Just take a look at the average horizontal movement of his slider for each month of his big league career.
Note: The lower the number, the more movement a pitch has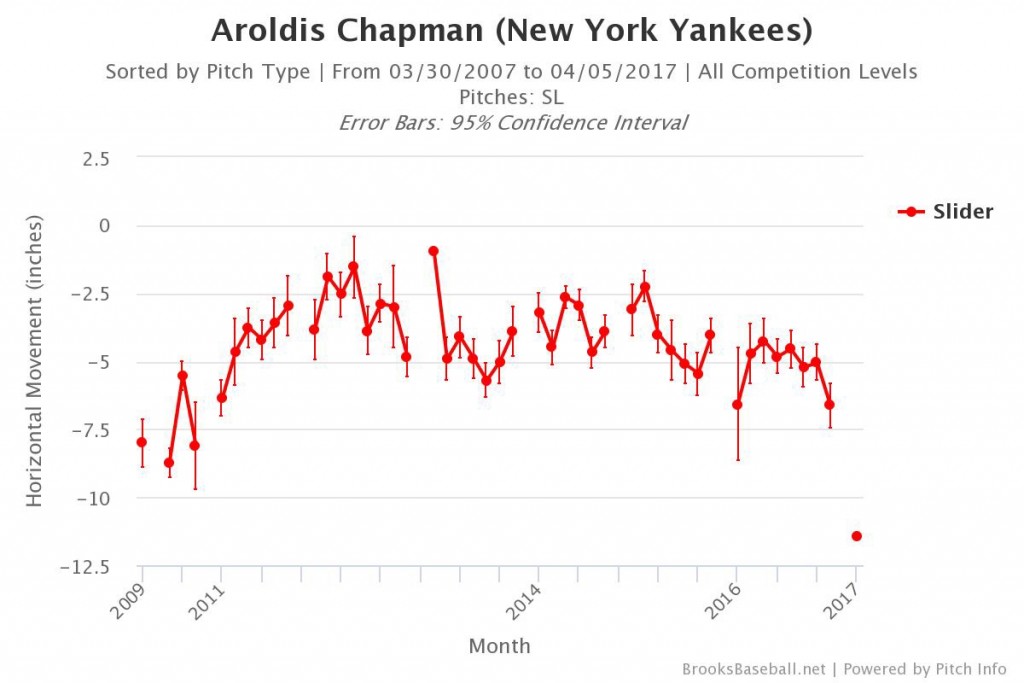 (By the way- see that little dot in the lower right hand corner of the chart just above 2017? That was the slider he threw to Miller. It moved 11.26 inches away from him. That's absurd.)
Chapman's slider is so good, in fact, that it compares favorably to the one owned by teammate CC Sabathia. Sabathia's slider—which has long been considered one of his best offerings—also sits in that -2.5 to -7.5 inch range of horizontal movement. Even as Sabathia has lost velocity, he has gotten his slider to move even more, which helped him post the second highest soft contact percentage amongst all starting pitchers last season. While this is only one case, it does suggest one can survive a drop in velocity if one has great secondary pitches in the arsenal.
Of course, Chapman is not going to maintain his fastball velocity forever. It also remains to be seen whether his slider will lose its effectiveness once he does start experiencing a drop in velocity. No one knows for sure when it will begin to show signs of decreasing, but when it does, there is still reason to believe Chapman will still be an elite reliever because of his slider. Until that day comes, however, let's just continue to enjoy highlights like the one above (sorry Brad) and hope that Chapman pushes off that day for a long time.