One of the primary purposes of advanced statistics and tools like Statcast that have emerged in recent years is to better tell a story—the story of a particular player's season or career. The story of why a team collectively struggles one year and does well the next with little roster manipulation. And sometimes they help tell the story we think we see with our eyes but have no statistical proof for immediately.
This particular story is an example of the latter type.
Over the past several seasons, Yankee fans have complained ad nauseam about the team's inability to manufacture runs. In particular, the apparent inability to bring home runners from third.
Indeed, fans can trust what they see with their eyes in this instance. Over the past five seasons, the stats show that the Yankees have not done well at all with chasing in runners from third. The following chart shows the team success rate over the past five seasons with that particular task (I only factored in players who had over 300 total plate appearances in each season since those are theoretically a team's best hitters, which usually was between 8 and 10 players each year).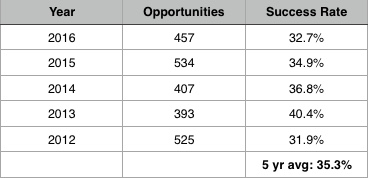 In that five year span, the Yankees have ranked in the bottom half in the league in runs scored three times (16th in 2013, 20th in 2014, and 22nd last season), though they did rank second in both 2012 and 2015.
Now here is the good news: new Yankee Matt Holliday can help his new club fix this problem.
Holliday, 37, has been outstanding in getting runners in from third in his career. Over the past five seasons, the veteran has driven in the runner from third in 44.7 percent of his chances (or nearly ten percentage points higher than the Yankees as a team have averaged over that same span). The chart below breaks down how his success rate breaks down over each season: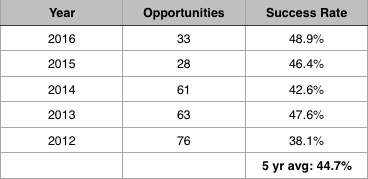 Holliday's 48.5 percent success rate in such situations in 2016 ranked 14th in baseball among the 258 players who received at least 300 at-bats. The highest ranked Yankee in 2016 was Starlin Castro, who checked in with a 41.7 percent rate (73rd). No other Yankee ranked in the top 100.
What does this mean in tangible terms? For one thing, it speaks to Holliday's approach as a hitter. He's never been a high strikeout guy (16.4 percent strikeout rate for his career, 16.9 percent over the past five seasons) and he puts the ball in play often and all over the field. His style is much different than what we have seen in the Bronx over the past several years when opposing teams shifted heavily in all situations against the likes of Brian McCann and Mark Teixeira.
Holliday's all-fields/high contact approach seems to make him ideal at situations where any kind of ball in play equals a run. So even if Holliday this season drops down to his average success rate of 44.7 percent over the past five seasons, this important skill should be a big boost to the Yankees' offense in 2017.
Photo: Butch Dill / USATSI