There are few times when a fanbase feels excitement after the injury bug bites a player who posted 20 home runs and a .276 average in the prior year, but with the news trickling out of Steinbrenner field on Tuesday afternoon that shortstop Didi Gregorius will miss the month of April with a shoulder hematoma, it was hard to silence the buzz around BP's number 15 prospect, Gleyber Torres.
While this sent me down a rabbit hole of disgusting hematoma pictures and how to treat them — apparently cabbage and mustard can actually help — the more important matter at hand is who we'll see donning pinstripes in place of Gregorius for the month of April.
I'll break the other bad news right now.
The rational replacements for Gregorius aren't nearly as exciting as the grand prize in the Aroldis Chapman trade. Torres has earned scouts' attention, not only because of his Arizona Fall League MVP trophy, but because of his success and poise at 19 years old. Backing up the critical acclaim with a .464 average and 1.448 OPS over 28 at bats this spring, Torres seems ready to slot in at short if the Yankees want to blow up headlines and fantasy baseball drafts this close to the start of the season. The bat control he showed on his first homer of spring, going the other way on a 3-2 fastball off the plate was one of the things that impressed myself and others the most.
If this decision was that easy, Torres jerseys would be already be sold out.
For one, I don't even see the top prospect staying at shortstop long term, and others agree. A move to third base or second seems most likely as he solidifies his approach at the plate. As the skeptical chatter about how his range will play at the major league level bubbles into our conscious, it only validates this point.
There is the also the inevitable 'prospect control' matter, which has caused some of the most able bodied prospects to stick around the minors — Kris Bryant always comes to mind — a few days longer to promote long term visions of workability in free agent budgets. This discussion of 'super two' players deserves a thousand words on its own, but the details are less interesting than an accounting textbook, so I'll do my part to retain some BP Bronx readers and punt the topic to other sites. As much as the Yankees may stress Torres' development, the money involved is a clear matter of importance as well.
In the wake of all this speculation, Torres was just reassigned to Double-A Trenton, which will soon put to sleep the already tired critique that the Yankees' number one prospect doesn't have any at bats above High-A. We should see Torres in the Bronx this year, at the earliest sometime in June, but there is an equal chance a September call-up is the more accurate prediction.
The Trenton Thunder open their season on Thursday, April 6, against the Erie Seawolves (Detroit Tigers Double-A affiliate).
Replacements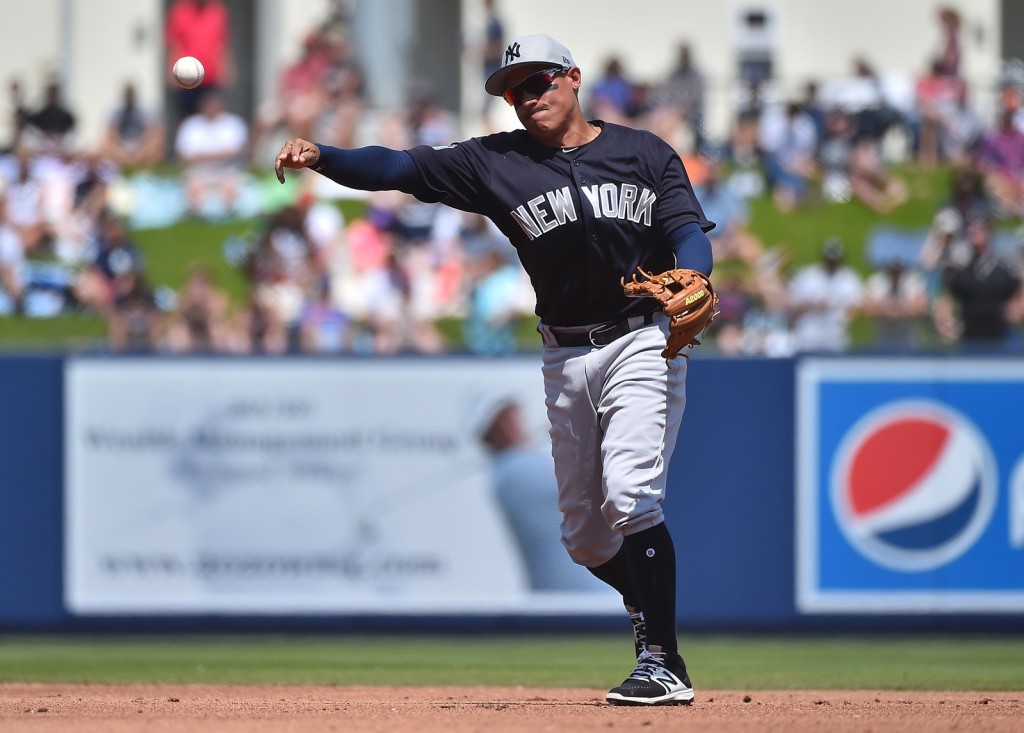 All short-term in my eyes. The Gregorius injury is enough to promote some caution and his removal from the World Baseball Classic, but not discouraging enough to expect a completely lost 2017 season.
PECOTA pegged Didi for just under a 2 win season, with a .259 average and 14 home runs at their 50th percentile outcome (reasonable expectation). While the 100th percentile (bold expectation) of a .290 season and another shot at 20 home runs may seem like a pipe dream, take away roughly 100 at bats from Gregorius, and we're still in the realm of valuable production at a premium position.
Ronald Torreyes, Ruben Tejada and Pete Kozma are the players of note that should see uptick in consideration for at bats.
Torreyes, who comps well to a player out in San Francisco by the name of Joe Panik, graduates from utility defender to a candidate who should exceed his 99 total innings at shortstop in 2016 very quickly.
Tejada always finds himself in the right place at the right time. Last season he was picked up by the St. Louis Cardinals to fill the void created when Jhonny Peralta went down with a bad thumb. A good thing to remember about Tejada is that Mike Matheny, a relatively strict manager when it comes to liberal prospect use, only started favor the 2016 breakout Aledmys Diaz late in Spring, after a Tejada injury manifested just prior to opening day. While there may be some merit to Matheny's want for Tejada in early 2016, I'm doubtful that the former Mets starter is anything but a deep bench bat at the major league level.
To make things worse, Tejada's defense has seen some decline in the past few years. With limited reps at the major league level and mediocre results to show, the fountain of youth is the only remedy I see for the kindling of life in a player I thought was much older than 27 years old.
Kozma is the third and final candidate for playing time, and while I entertained the idea of excitement for Tyler Wade, a young middle infielder who scored 90 runs at Double-A Trenton last season, the short term impact this situation has makes me skeptical the Yankees start handing out starts to even less proven talents than Torres.
I may be one of the only ones who remembers Kozma's clutch RBI in game five of the 2012 NLDS, and to say that was the apex of Kozma's career isn't a brash. Kozma had 450+ at bats in 2016 with Triple-A Scranton/Wilkes-Barre, batting only .209 with a slugging percentage below .300. If Kozma is anything but an afterthought in this situation, even with a glove that has shown promise at the major league level, I will be one surprised individual.
What we have in the mix for time at shortstop is the 2016 utility man Ronald Torreyes, flanked but two much less appealing options in Ruben Tejada and Pete Kozma. Torreyes' performance last season and his flexibility around the diamond has earned him a chance to prosper with a small sample of regular playing time. I think depth is necessary, which is why Tejada and Kozma should be in the discussion, but the only player that can return value is Torreyes.
I'm eager to see the results of some trust extended to the 24 year old. It's not Torres time quite yet, but it sure seems like Torreyes time.
Photos: Kim Klement, Jasen Vinlove/USA Today Sports