In all likelihood, we've only seen the best Gary Sanchez has to offer. Sure, he's young enough to improve aspects of his game, but it seems improbable that he'll slug over .650 next season and look like the most dominant offensive weapon in the sport.
It could happen, but it won't. Instead, Sanchez will show himself to be an enormously talented and valuable young player rather than a universe-consuming behemoth who has chosen baseball and his preferred method of toying with mere mortals.
Probably.
One of the reasons we can be confident about this outcome is that at the end of last season Sanchez, however briefly, looked more like a member of our species. He slowed down significantly in the finishing stretch and appeared to be a hitter capable of struggling.
Between September 17 and September 21 Sanchez hit five home runs and was in full kaiju mode. However, before we as a society decided to send massive robots to kill him — that needed to be piloted by two people with a mind connection for reasons that were never properly explained — he fell back to earth.
From Sept. 22 to the end of the season Sanchez was objectively bad. He hit .114/.220/.229 with a single home run and struck out 31.7 percent of the time. It was a stretch of just 41 plate appearances that signifies virtually nothing, but it was the first time we've seen the bad version of Sanchez and it's worth taking a gander at what that looks like.
When Gary was in the midst of his poor to the finish he  had some bad luck with a .136 BABIP, but the poor fortune was of his own creation. Sanchez hit 60.9 percent ground balls and pulled them at a 71.4% rate for a grand total of zero hits. It's no secret that the best way to keep a slugger who doesn't run well from hurting you is to have them put it on the ground, but it will be interesting to see what other teams do when it comes to shifting the Yankees catcher over the course of a full season.
Interestingly, while Sanchez was struggling at keeping the ball off the ground he was constantly swinging at high pitches. Here's what his swing% zone profile looked like during his dark conclusion to the 2016 season: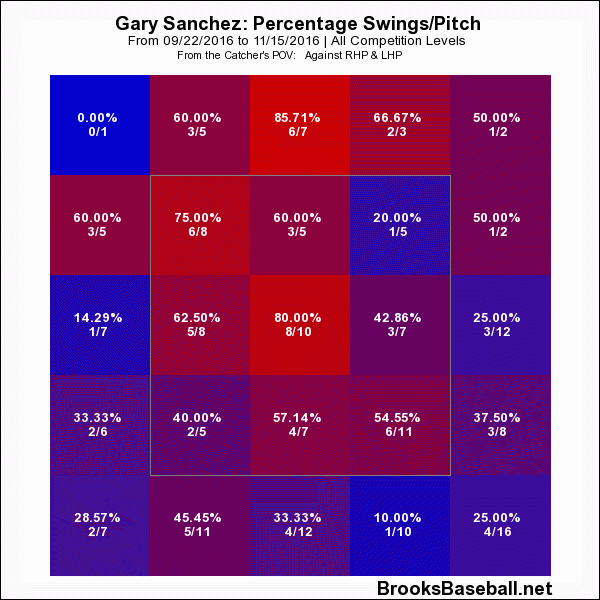 When it came to actually missing pitches, high-and-outside seemed to be the problematic location: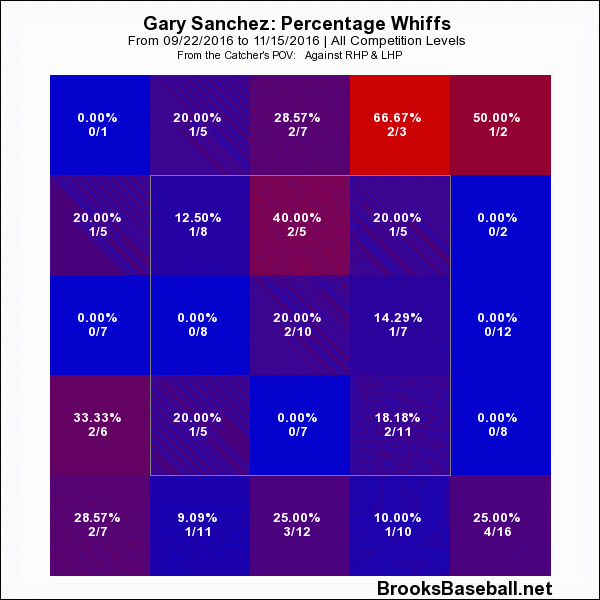 The sample is silly small, but if I'm an opposing team it might be enough for me to experiment with increased fastball elevation and staying away. After all, there isn't exactly a well-established winning strategy when it comes to retiring Sanchez.
At the end of the day the brief look in on Sanchez's worst at-bats doesn't reveal anything to surprising or profound. When he's not rolling he bangs too many ground balls to the left side of the infield and swings for questionable pitches up. The same could be said for a lot of right-handed sluggers.
The point is that we know that he can struggle, which is important when in order to relate to him as a man, but also to temper expectations to some degree. "Bad" Gary Sanchez exists, even if we've only seen a glimpse of him so far. Next year we might see a month of him, or even too.
That's OK because that's how baseball works and that's part of what makes the game fun. If Sanchez hit 1.000/1.000/4.000 it would cease to be enjoyable. That said, there's plenty of wiggle room between that and even historical greatness. Last year was damned fun.
Next year watching Sanchez hit figures to be enjoyable too, but it won't always be. Sometimes he'll look like he's trying to do too much. Sometimes he'll hit into agonizing double plays.
At the end of the day if you don't love Gary Sanchez at his worst, you don't deserve him at his best.
Photo: Kim Klement / USA Today Sports