Is it better to be loved or feared?
This is a question that has been asked consistently by mankind's greatest leaders. It's an exceedingly difficult dilemma. One that has never been adequately resolved, although the "rule by fear" camp has a pretty poor record on a few things; human rights for instance.
Baseball players do not have to deal with this eternal quandary. Being loved is worth very little on a baseball diamond. On the other hand, being feared can be awfully handy. That's something Gary Sanchez is finding out right now.
There's no need to recap Sanchez's early-career exploits except to say they are grander than the best case scenario envisioned by even the most intoxicated of Yankees fans.  His OPS is closer to 1.400 than it is to the major-league average of .740. The things he's doing at the plate are downright silly and probably shouldn't be allowed.
Unsurprisingly, pitchers have noticed. They've decided, as a group, that they would rather not keep conceding home runs to Sanchez and they've adjusted. It's the nature of this adjustment that shows that the Yankees catcher is haunting their nightmares.
When hitters first show up in the major leagues, pitchers rather reliably go with a single strategy to welcome them to the highest level of the game: they throw fastballs. If a player can't hit a fastball there's very little incentive for pitchers leaning too much on their secondary stuff which can be harder to command and harder on their arms. If you want to have a long MLB career you need to prove you can catch up to the heat.
Sanchez, less than 200 plate appearances into his career, is forcing him opponents to go the other way entirely. Out of 377 hitters with at least 150 trips to the dish, the 23-year-old has seen the lowest percentage of fastballs in the game at 45.6 percent.
Fastball percentage doesn't tell the whole story, but as a metric of general pitcher fear, it's not bad. For instance, the league leader in fastballs seen is Ben Revere, sitting at 70 percent. There is quite literally no man in baseball who inspires less terror with his power. Next on the list is A.J. Ellis. The only distress he's created recently is the breaking of Clayton Kershaw's heart when he headed to Philadelphia.
Not only are pitchers feeding Sanchez a heavy diet of offspeed and breaking pitches, they are also keeping those offerings away from the strike zone if at all possible. Among the same sample of 377 hitters, his percentage of pitches in the zone seen is the 10th lowest at 39.7% just below Pedro Alvarez, Corey Dickerson, Jose Abreu and Giancarlo Stanton. Some of the players in his stratosphere simply have awful discipline, but they are mainly top-notch sluggers.
The pitches Sanchez has seen look like this: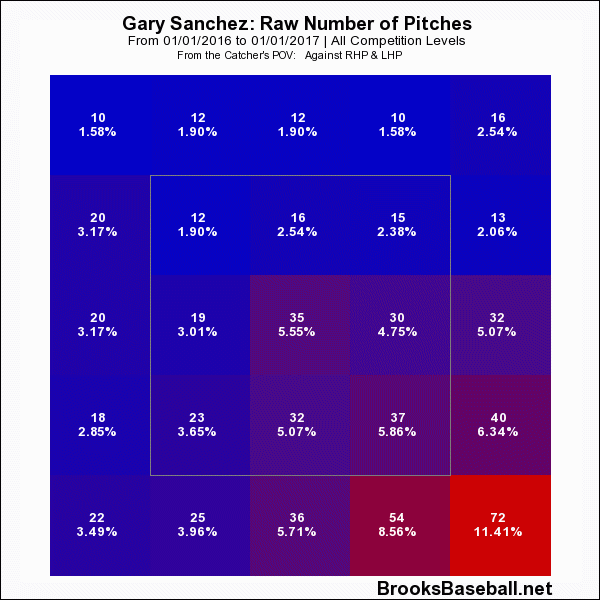 This chart's low-and-away tendency is unsurprising considering all the breaking pitches.
Sanchez needs to be careful. Being consistently pitched around can lead to walks and favorable counts, but discipline has never been his calling card and as pitchers stay away from him he'll need to holster his bat to take advantage.
Pitchers have seen the glory that is Gary Sanchez and trembled with fear. The way they're pitching him confirms it. The next step is converting raw terror into production.
Photo: Adam Hunger / USA Today Sports