At this very moment Didi Gregorius is in the midst of a textbook breakout. It's worth questioning what kind of educational literature would contain the definition of a breakout for a baseball player, but presuming that it exists, Gregorius is certainly conforming to its demands.
The 26-year-old is an above-average offensive contributor for the first time of career, thanks in large part to a power spike few would have predicted. Not only has his performance improved, underlying numbers suggest that it's no mere BABIP blip or some such event. Here at BP Bronx Jesse Lippin-Foster even penned a piece on the subject entitled "Why Didi Gregorius's success is sustainable".
Right now, the New York Yankees have a young shortstop who is a plus offensive contributor on their hands. That's a rare and impressive thing. Unfortunately for the Bombers, simply being a shortstop is not enough. Fairly unsurprisingly, it is rather important to play the position well. This is where Gregorius is running into some trouble in 2016.
No matter whose metrics you prefer there is strong agreement that Gregorius's offensive breakout has been mirrored by defensive deterioration.
| Metric (in runs) | 2015 | 2016 | Difference |
| --- | --- | --- | --- |
| B-R dWAR | +15 | -3 | 18 |
| BP FRAA | +1.2 | -1.3 | 2.5 |
| FanGraphs DEF | +14.2 | +1.9 | 12.3 |
| Average | +10.1 | -0.8 | 10.9 |
There are some apples to oranges issues here, FRAA doesn't include positional adjustment for instance, but the message is clear: Gregorius has been a far less valuable defender this season than last.
Why that's been the case is harder to say, but there are a few things that stand out. For one, the shortstop has already made a career-high 15 errors. As a defensive statistic errors are overrated in some circles, but they tend to be ignored in others. You need defenders who handle the ball the most to be the most reliable and Gregorius has had more trouble with routine plays than ever.
There is no real rhyme or reason to these mistakes. Fielding errors are more common for Gregorius than throwing errors, which seems odd for a shortstop but isn't unusual for him. The most amusing gaffe came in April when he and Chase Headley were part of the rarely-seen double bobble.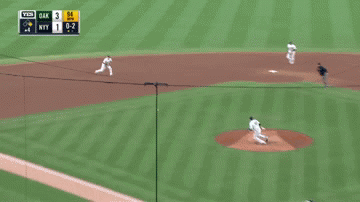 Beyond the errors, the second component of Gregious's defensive slide has been worse range numbers. His Range Factor has dropped from 3.92 to 3.75 and he's lost 9 range runs according to DRS and 3.8 according to UZR.
Comparing his made plays from 2015 to 2016, it appears he did went deeper into the hole last season.
2015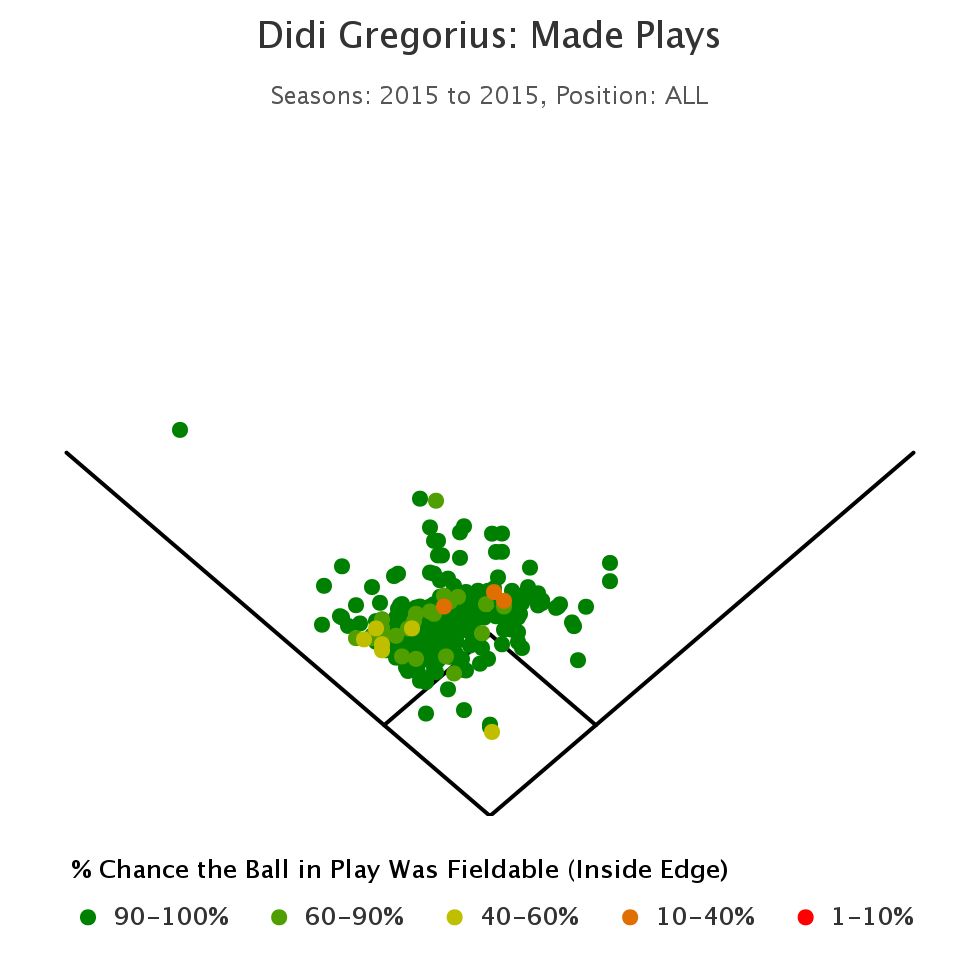 2016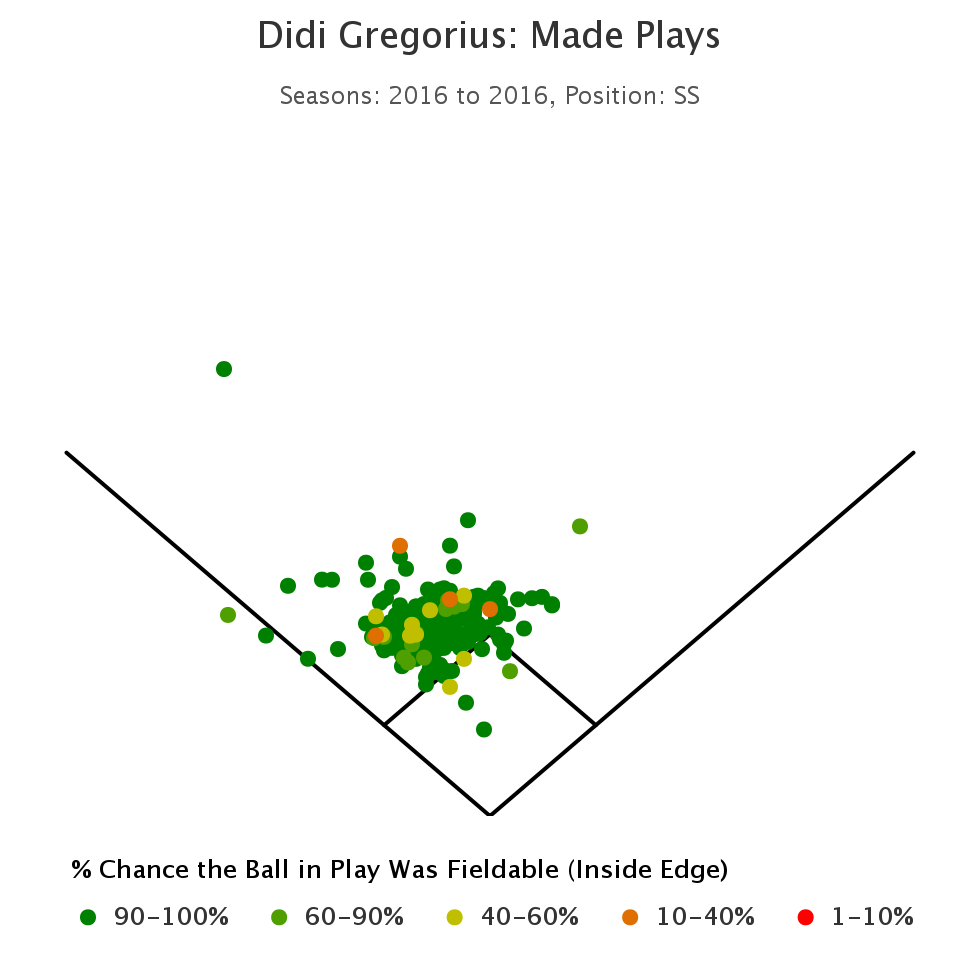 None of this is to say Gregorius has suddenly lost it defensively. Players have poor defensive seasons and bounce back all the time, especially those in their athletic prime. If Gregorius was a noticeably bulked-up 35-year-old having a power breakout, it would be easier to see these defensive issues as a concern going forward. That's clearly not the case, but what the defensive numbers do show is that his 2016 breakout is something a mirage from a value standpoint.
By FanGraphs, Gregorius led Yankees position players in 2015 with a 3.1 WAR, this year he is their WAR leader once again at 2.3. It'll be touch-and-go to see if he beats his 2015 number despite his offensive evolution. According to Baseball-Reference, the young shortstop's 2015 WAR was 3.3 and he's sitting at 2.0.
What Gregorius has accomplished offensively in 2016 is remarkable considering his previous track record, and his power surge could pay dividends for the Yankees for years to come. There is no denying that. But given his step back defensively, it's clear that this season shouldn't go down as the year Gregorius became a star. He still has to put it all together, something that's fairly likely to happen as soon as 2017.
For a rare Yankees team looking to the future, that timeline works just fine.
Photo: Adam Hunger / USA Today Sports