Since December 2 1992, Gary Sanchez has been, absolutely, 100 percent, a real person. There is documentation to support this claim and very few would rise to argue the counter point. However, for New York Yankees fans he's just now making the transition from abstract concept to concrete object.
Most fans don't watch a great deal of minor-league baseball. This is understandable as major-league baseball is readily available, higher quality and relatively inexpensive to watch from home. The result of this is that young prospects, who are taking on a more and more important role in team-building as salaries skyrocket, aren't well known to fans in the way big-league players are.
There is a lot of coverage of prospects and scouting reports are all over the internet, but for most fans a young player doesn't become real to them until they see him step into the box, go through idiosyncratic pre-batting rituals and take his stance. Until that time a prospect is just an idea.
Right now Sanchez, who first appeared on Baseball America's top prospect list during Barack Obama's first term, has been in this stage for quite some time in the psyche of the Yankees' faithful. Now he's finally moving past it.
In 2015 the 23-year-old got a couple of at-bats as a pinch hitter, then he got a couple of starts as a designated hitter this year, but last week he finally debuted as a catcher. This is particularly significant because the greatest doubts around Sanchez's ability to contribute at the game's highest level have surrounded his glove.
We are three games into his time behind the plate at the major-league level. That's absurdly early to be making judgments, but it's never too soon to be making observations.
So far he's thrown gone 2-for-4 throwing out opposing base runners, nabbing both runners in his debut. It should be noted that both his stolen bases allowed came when catching Dellin Betances, who has allowed 17 base runners to steal on 17 tries.
The throw on his first prevented robbery was sharp, on target and nailed a credible base stealer in Jason Kipnis.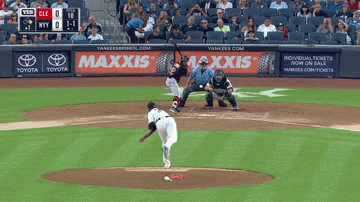 On a more peculiar play Mike Napoli tried to catch him napping on a delayed steal following a strikeout.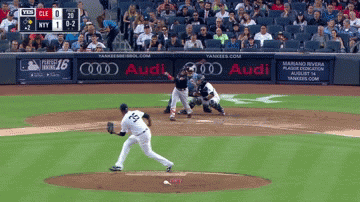 Sanchez appears surprised and perhaps a tad rattled and lets off an awful throw, only to be saved by Starlin Castro's quickness and Mike Napoli's lack thereof.
The next day, Sanchez has another adventure where he mishandles a pitch from CC Sabathia but recovers in time to cut down Brandon Guyer attempting to advance.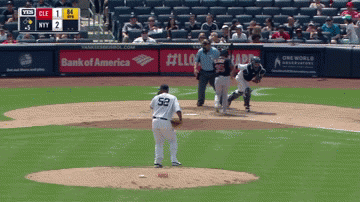 The last two plays turn out well for the Yankees, but they are both caused by initial miscues from Sanchez. On Napoli's attempted steal, he stands up with the ball looking at in his glove and unintentionally inviting the Indians'slugger to move.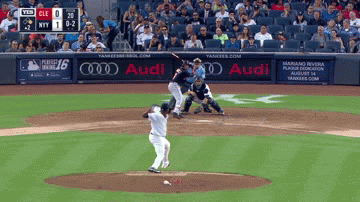 On Guyer's move to advance, he doesn't read the pitch well and winds up in a poor single-knee blocking stance leaving plenty of room for the ball to careen away to his left.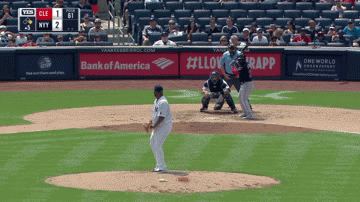 With a passed ball as well in that game, it's the kind of lapse that reinforces fears about the young Yankees' catcher who once allowed 26 passed balls in 60 games behind the plate in the minors. Those fears are justified to a degree, but Sanchez also suffers from a reputation built when he was a far worse catcher.
Looking at his minor-league numbers it's clear he has improved significantly from a defensive standpoint in the last three years.
| Time Period | Games Caught | SB Allowed | Caught Stealing | CS Percentage | Passed Balls | Framing Runs Above Average |
| --- | --- | --- | --- | --- | --- | --- |
| 2010-2013 | 277 | 287 | 144 | 33.4% | 71 | -12.2 |
| 2014-2016 | 240 | 135 | 82 | 37.8% | 22 | +25.8 |
Gary Sanchez has had an up-and-down first three games as a major-league catcher. It's to early to say much yet, except that there's certainly room for improvement.
That shouldn't be a problem for Sanchez, he's been improving for years.
Photo: Brad Penner / USA Today Sports