The Yankees entered the first game of a three-game road set against Baltimore looking to build off of a promising victory in Detroit. Instead, the Yanks reverted to their recent losing ways.
Friday night marked yet another frustrating one to be a Yankee fan. With a 5-2 lead in the sixth, Nate Eovaldi loaded the bases for Matt Wieters. On what should have been ball four, Wieters scooped a single into shallow left, cutting the Yankees lead to just one.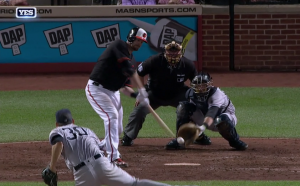 (Credit: YES Network)
Kirby Yates relieved Eovaldi following the Wieters single and promptly retired the first batter, recording the second out of the inning. However, Jonathan Schoop doubled to bring home Mark Trumbo, tying the contest at five.
At this point, it wasn't bold to predict another Yankee defeat, and the seventh inning would nearly cement that prediction. After a pair of singles, Dellin Betances induced a groundout from Manny Machado, allowing a run to score. Betances made quick work of Trumbo and Chris Davis via the K, but picked up the loss in doing so.
Chase Headley singled with one out in the ninth to give the Yanks a glimmer of hope. Austin Romine proceeded to erase that hope, grounding into a game-ending double play. The loss marks New York's seventh in their last ten games.
Top Play: Carlos Beltran's fourth inning 2-run homer (.223 WPA)
Chris Tillman had cruised through the first three innings before running into trouble in the fourth. Tillman lost command, and when he found the zone, it was hit hard. Beltran and A-Rod went back-to-back, with Romine following with a solo jack to kick off the top of the fifth.
Top Performers:
Yankees: Brett Gardner (2-4, BB, R)
Orioles: Mark Trumbo (3-4, 2B, 2 R)
Notes:
– Mark Teixeira left the game in the third inning with right knee 'discomfort'
– Dellin Betances picked up his third loss of the season, just one shy of his total last year
– Nate Eovaldi earned his 500th strikeout in the third inning when he fanned Hyun Soo Kim
– Brett Gardner broke out of his miserable 0-24 slump with a hit in the first. He singled in the seventh as well.
The Quote:
"He needed a shovel to hit this one" — Ken Singleton describing Matt Wieters' two RBI single
Up Next:
The Yankees will put Ivan Nova (3-3, 5.15 DRA) on the hill to face Baltimore righty Tyler Wilson (2-4, 5.25 DRA). Nova has lost consecutive starts against Toronto after winning two in a row against Oakland and Chicago.
Photo Credit: Rick Osentoski /USA TODAY Sports