C.C. Sabathia is not the pitcher he used to be. No longer can the 6-foot-7, 270-pound behemoth of a man strike out 200 batters, win 20 games or eat up 230 innings in a season. Elbow and knee injuries over the past couple of years have severely hampered Sabathia's production and made his contract seem like a big disappointment.
But we're here to look at the present, not the past, and expectations of the former Cy Young award winner are not nearly as high. This year, we saw Sabathia in a spring training battle for the last spot in the Yankees' rotation, and the Yankees enter the season with doubts surrounding who their ace was.
The results from Sabathia's first two starts this season have been mixed. During the winter, Sabathia worked with both Andy Pettitte and Mariano Rivera on throwing a cutter, a pitch he hadn't thrown at all before 2014. Now, Sabathia throws his cutter more frequently than his regular four-seam fastball. His cutter usage is at 39.46 percent so far this year, up from three percent in 2015 and higher than his 33.52 combined four-seam/two-seam rates. Additionally, the cutter has been Sabathia's go-to pitch in two-strike counts, throwing it almost 50 percent of the time in payoff situations, and resulting in ground balls more than three times as much as line drives in such situations.
In his first start against the Tigers, Sabathia set down Detroit in order their first time through the lineup and utilized his cutter to great effect. One of Sabathia's best early cutters came against Justin Upton in the first inning.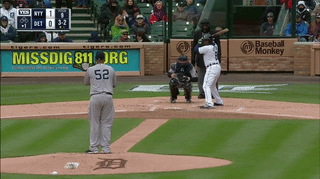 Out of the 38 cutters that Sabathia tossed two Saturdays ago, 19 induced swings. The cutter above to Upton was the first of 4 whiffs on the pitch and was set up by a 3-1 fastball that Upton fouled off on the previous offering. Sabathia continued mowing down Detroit hitters, needing only 34 pitches — 23 of which were for strikes — to navigate the first three innings, but the fourth inning brought a much different story.
To start, Sabathia nearly doubled his pitch count in the fourth, slinging 33 to bring his total to 67 once the inning finally ended. He walked the bases loaded and with two outs, James McCann and Jose Iglesias both hit line drive singles.
The most noticeable difference between these and the put-away cutter to Upton in the first inning is that neither pitch was on the outside third of the plate. Sabathia tried to come inside to McCann, (left GIF) but instead the ball flattened out and McCann turned on the 3-1 offering for a single to left field. Against Iglesias, (right GIF) Sabathia tried the same strategy as he did against Upton — a two-strike, high and away cutter — but left it too close to the middle of the plate and Iglesias lined it up the middle. Naturally, if Sabathia hadn't walked three of the previous batters this jam would never have happened, but Sabathia may have been able to get away with pitches like these a couple years ago. However, in his current form he can't blow by hitters anymore and generate a ton of swings and misses. He needed to be more accurate against McCann and Iglesias and missing by even a few inches, as seen above, ended up haunting him in the end.
McCann's single drove in two runs for the Tigers, cutting the Yankees' lead to 6-2. Iglesias's single didn't hurt New York though, as Mike Aviles followed with a lineout to end the threat. Sabathia departed after six innings and was charged with three runs on four hits and four walks with 3 strikeouts. Below is a chart of Sabathia's pitch selection from his start against the Tigers and the outcome rates of each pitch, which illustrates Sabathia's heavy use of his new cutter right out of the gate and its effectiveness in inducing swings.

In his next start against Seattle, Sabathia continued using his cutter but was much less efficient overall. He was able to get through the first four innings unscathed, scattering three hits and a walk, before he unraveled in the fifth. Sabathia was able to utilize his cutter more frequently against lefties in this start because of the composition of the Mariners' lineup. Unfortunately for the Mariners, Nori Aoki fell victim to Sabathia's new-found craftiness.
Aoki's first at-bat (left GIF) ended with a weak ground ball back to the mound, coming on a low-and-away cutter. His second at-bat (right GIF) concluded with an up-and-in cutter that he swung through. Against a lefty like Aoki, who is normally a contact hitter, Sabathia was able to move his cutter anywhere around the strike zone. Both of these pitches came with two strikes, similar to the usage against the Tigers, indicating Sabathia has quickly become comfortable using his cutter to try to finish hitters off. And although lefties are easier for a left-hander like Sabathia to fool, it's still a positive sign that he is able to handle them without much issue.
Sabathia continued to use his cutter very effectively to righties as well, as evidenced by this strikeout to Ketel Marte that's almost identical to the Upton strikeout.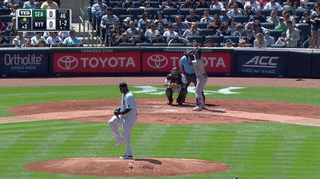 This is what Sabathia needs to keep doing if he wants to succeed as a finesse pitcher — entice opposing hitters with pitches that look like fastballs but break just a bit at the last second. However, Seattle's best hitter is a lefty like Aoki, much to the chagrin of Yankees fans everywhere. Robinson Cano, the ex-Yankee who bolted to the Pacific Northwest for $240 million, came up to face Sabathia in the third inning, the only time Sabathia retired him. First, let's see what Sabathia did well.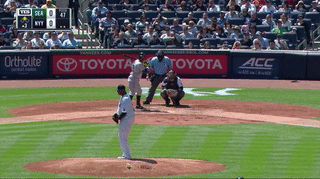 The first pitch to Cano is a cutter inside that completely fools him. Instead of saving the cutter for the pay-off pitch, Sabathia unleashes it right away and ties up Cano. When he can locate his cutter, Sabathia can easily be a top-tier back rotation pitcher, which is what the Yankees are hoping he'd be after he reinvented himself in the offseason. When he can't locate his cutter though…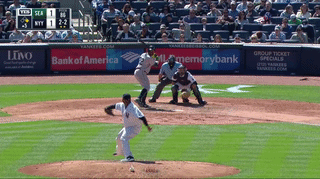 Sabathia left that cutter right over the heart of the plate and Cano made him pay, ripping a single through the middle even though Didi Gregorius nearly reached the ball when he was covering second base. You can see Austin Romine set up outside, on the black, but Sabathia's pitch couldn't quite get there. Again, Sabathia can't afford to miss on two-strike pitches like this because he simply isn't the same pitcher that he was a couple years ago. The life on his fastballs just isn't the same. After Nelson Cruz doubled in Cano, Sabathia's day ended at just 4 2/3 innings and 95 pitches. He was charged with three runs on seven hits with a walk and five strikeouts.
The bottom line for Sabathia and the Yankees is that he needs to continue honing command of his cut-fastball. Against right-handed batters it has already become his weapon of choice, as Sabathia has thrown the pitch 43 percent of the time and 65 percent of the time in two-strike counts so far in 2016. He has found some early success already with this, as shown by his strikeouts of Justin Upton and Ketel Marte on perfectly placed pitches. But his cutter is still a work in progress.
Sabathia could additionally benefit from going deeper into games, as his early pitch counts have been pretty high, though the excellence of the Yankees' bullpen doesn't necessitate this. The most important thing is to become completely comfortable with the cutter because over the course of his career, right-handed batters have a batting average against more than 90 points higher than lefties do. If he wants to regain some of the success he found early in his career, Sabathia should keep improving his cutter to the point where their advantage is relatively neutralized.
Lead photo: Noah K. Murray / USA Today Sports