Last year Luis Severino had an excellent season by all reasonable measures. He made quick work of the upper minors, and arrived with the New York Yankees in time to help them into the playoffs, all at the tender age of 21. By the end of the year, fans were praising Brian Cashman's refusal to deal him at the trade deadline, and had the looks of a mainstay in the team's rotation for years to come.
There's not much to dislike about the young right-hander. He throws 95-plus, has a vicious slider and his youth indicates that the best is certainly yet to come. There was only one hiccup in his first taste of big-league action: a problem with the long ball.
Severino struck out his fair share of hitters, got ground balls and kept his walks reasonable, but his 1.30 HR/9 was downright ugly. The balls leaving the park against the young righty caused his FIP to balloon to 4.34 and his DRA was 3.72, taking a lit bit of the shine off a 2.89 ERA.
Pitching at Yankee Stadium is no easy task, and the sample size is small, so there's no reason to panic about Severino's inability to keep balls out of the bleachers. However, what his gopher-itis after his promotion shows is just how different the major-league level is to the minors.
In his four-year, 320.2 inning minor-league career Severino conceded exactly eight home runs. In just under two months with the Yankees he allowed nine. He didn't change his approach in any significant way and still had strong strikeout/ground ball numbers, but at the game's highest level mistakes do not go unpunished. This is the location of the pitches that Severino allowed round trippers on: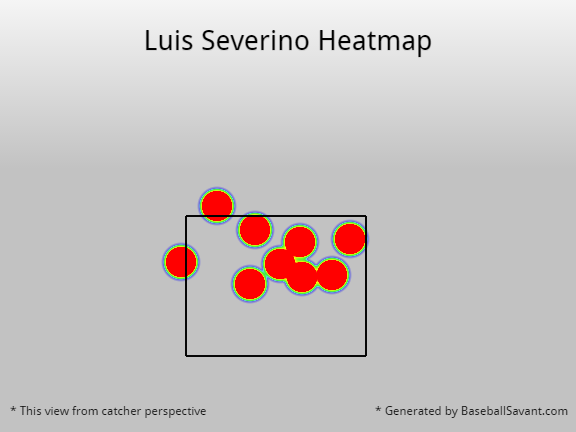 Pretty much right in the middle of the plate for the most part. A little bit up, but not up enough to cause any problems for the hitter. Severino as a guy who relies more on velocity than command has been missing his spots like this for his entire professional career, he just hasn't seen guys who can make him pay for it. In his brief stint with the Yankees he most certainly did. This is the list of hitters who hit the nine pitches shown above:
| Player | 2015 Home Runs | Career Home Runs |
| --- | --- | --- |
| Josh Donaldson | 41 | 104 |
| Jose Bautista | 40 | 286 |
| David Ortiz | 37 | 503 |
| Manny Machado | 35 | 68 |
| Evan Longoria | 21 | 205 |
| Justin Smoak | 18 | 92 |
| Kevin Pillar | 12 | 17 |
| Francisco Lindor | 12 | 12 |
| Nolan Reimold | 6 | 50 |
That's one hell of a list. These nine guys hit 4.5 percent of all big-league home runs last season and have left the park a whopping 1337 times in their respective careers. In a sense it's hard to blame Severino for letting this group take him deep.
However, at the big-league level there are always going to be elite hitters lurking around every corner. If Severino can't locate his pitches against them consistently, they will continue to do what they do best. Just throwing hard isn't good enough against the top guys in the sport.
Given his age and the success he's already had there's very little reason to believe he won't improve significantly. Other than the fact his choice of career both relies on the integrity of his arm and is, by definition, an arm-destroying endeavor, there's no reason to be against Severino going forward.
His home run problems are likely to abate, but his early difficulties are a reminder of just how hard it is to make the jump to the big leagues, no matter how talented you are.
Lead photo: Andy Marlin / USA Today Sports