For some teams, a prospect coming up to the big leagues and thriving is a regular occurrence. How lovely it must be to be a Cardinals fan! For other teams, it's a rare occurrence. For the Yankees, it hasn't really happened since Brett Gardner or David Robertson. There's been a constant stream of disappointment since then, outside of the occasional useful reliever.
That changed in 2015. Luis Severino and Greg Bird both reached the major leagues and performed admirably. Bird was worth 1.1 WARP in 46 games, hitting .261/.343/.539 to go along with 11 home runs and a 10.7 percent walk rate. Bird is the heir apparent to Mark Teixeira at first base, and figured to be his eventual replacement at some point in 2016 when Teixeira's propensity for injury comes into play. Yet fate is a cruel mistress indeed. Bird is out for the season following surgery to repair a torn labrum. He reportedly felt some pain in his shoulder towards the end of last year, and now we know why. There are worse problems for a team to have than not having a strong Plan B at first base. Far, far worse problems. That doesn't make the loss sting any less.
Bird missing the season hurts us as fans for two reasons. The first is the absolute dread that comes with the knowledge that at some point, somehow, Teixeira will cash in his frequent flier miles and limp to the disabled list. That's when Dustin Ackley, or Chase Headley, or even Brian McCann could find himself spending far too much time at first base.
The second is that we love to see prospects succeed, especially when the system hasn't produced a strong talent in years. Bird is part of a holy trinity of prospects that also includes Severino and Aaron Judge that Yankees fans have hung their hat on as their source of hope for the future. The ancient likes of Texieira and Carlos Beltran are finally starting to filter out of the roster. The next generation of Yankees is on the horizon, but it just hit a major bump in the road.
So, how should one deal with the sadness of losing an exciting young player like Bird to injury for a whole year?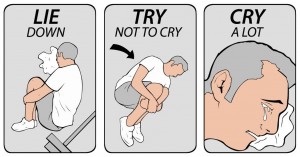 Well, not exactly.
Remember the other cool stuff happening with the Yankees
We may not get to watch Bird mash dingers for a while. That blows. However, we do get to watch Severino make batters look life fools all year. We get to see if Starlin Castro turns back into a productive hitter while forming half of the youngest double play combinations that the Yankees have had in eons. Plus, Aaron Judge should be hitting the Bronx at some point this year, and if you like homers, you're going to love him.
Don't forget that prospects break your heart
Bird was really good during his big league cameo in 2015. That doesn't mean he would have been really good in 2016. One of the complaints that scouts have with Bird is that he's often too selective at the plate, which can easily put him in two-strike counts, and that leads to lots of strikeouts. The pitchers of the AL East could theoretically still figure out the secret to dismantling Bird as they see him for a second time. As awesome as he is, Bird isn't a proven big-league product just yet.
Think about the Orioles' pitching staff
Baltimore is set to roll out a rotation of Chris Tillman, Ubaldo Jimenez, Miguel Gonzalez, Kevin Gausman, and, well, theoretically someone has to be the fifth starter, right? Those guys are going to have to pitch in Yankee Stadium pretty often. And Camden Yards, for that matter. Isn't that lovely?
Think about the back of the Yankees' bullpen 
Mmmm, strikeouts. The Yankees will be playing quite a few six-inning games this year. Who needs the Royals?
Look up some of the prospects still kicking around on the farm
Jorge Mateo is faster than a speeding bullet, and he plays shortstop. James Kaprielian is going to move through the ranks rather quickly. Dustin Fowler plays center field and does just about everything well, including hitting. Jacob Lindgren will finally ascend to the major leagues, elbow-embedded bone chip free, to strike out every batter he can get his hands on. Here, enjoy BP's Top 10 Yankees prospects.
Watch A-Rod hit home runs
It's so soothing.
Learning about Bird's injury probably injected an awful feeling into your soul. Breathe easy, let it all out. Just follow these six steps and everything will be okay.
That, and read BP Bronx as often as you can.
Lead photo: Noah K. Murray/USA Today Sports