After dealing away two relief pitchers to start the month, the Yankees acquired one of the best in the game towards the end of it.
New York traded four prospects to the Cincinnati Reds in exchange for left-handed relief ace Aroldis Chapman on Monday, continuing what's been a stealthily sound offseason. He joins incumbent closer Andrew Miller and set-up man Dellin Betances in the back-end of a suddenly terrifying bullpen.
Chapman was on his way to the Dodgers in early December before news of an ugly domestic violence incident surfaced, prompting a league investigation and throwing a wrench into the trade. The 27-year-old was not arrested or charged, but is facing a potential suspension. He's due to become a free agent next winter, but would not hit the market until 2017 if he is held out at least 40 games.
In the trade, the Yankees sent away third baseman Eric Jagielo, their No. 8 prospect according to Baseball Prospectus, along with infielder Tony Renda and relievers Caleb Cotham and Rookie Davis. Cotham is the only one who has experience at the major-league level.
Who the Yankees Get
Put bluntly, the Yankees acquired one of the best relief pitchers in all of baseball for a cheap price—there is no question that Chapman is an elite arm.
There are questions, however regarding what kind of individual he is. Chapman allegedly choked his girlfriend during an argument in October, and admitted to police that he fired eight rounds from his gun. From a baseball standpoint, there were never any red flags prior to the news regarding Chapman's attitude or character, though it remains to be seen how this will affect his presence in the clubhouse.
Chapman is the hardest thrower in MLB history. Last season he threw the 62 fastest pitches in baseball, according to MLB's Statcast, maxing out at league-high 103.92 mph. He averaged 99.96 mph on his fastball, which, predictably, also led the league.
His career Deserved Run Average, Baseball Prospectus' fairly new-and-shiny statistic that factors in ballparks, fielding, and other variables, is a sparkling 2.17. He's 'struggled' just once in his career, in 2011, when he earned a 2.73 DRA and a 92 cFIP, which pegged him as only 'Above Average.'
PECOTA projects Chapman to shine once again in 2016 with a 1.91 ERA and 2.9 WARP, and continue his dominance well into his thirties.
The only thing that may slow down the four-time All-Star is pastries; he once ate 18 prior to a game, surrendered two home runs, and blew the save.
What It Means
After trading away relievers Adam Warren and Justin Wilson to begin December, the Yankees were left with no clear-cut No. 3 option in the bullpen behind Miller and Betances. Chasen Shreve and Bryan Mitchell had both regressed towards the end of last season, and 22-year-old Jacob Lindgren, a.k.a. Big Chunk, a.k.a. Chunky saw just seven innings of action last season.
Now, the Yankees have all the flexibility in the world with three incredibly solid relievers at the back of their bullpen. Betances can pitch multiple innings at a time, and any one of the top-three can seamlessly transition into the closer role. This will allow Lindgren to be eased into more high-leverage work, and keep Shreve, who perhaps just dealt with fatigue last August, fresh.
This also means that there are theoretically just six innings to worry about. The rotation, which includes a youngster (Luis Severino) and recently-injured pitchers (Nathan Eovaldi, Masahiro Tanaka, Michael Pineda, Ivan Nova, CC Sabathia), can be deployed in a more conservative manner by Joe Girardi.
It also means Greg Bird will need to order a larger supply of bats this season: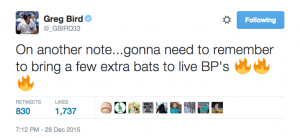 What Happens Next
General manager Brian Cashman said on his post-transaction conference call that he was not going to be dealing away Miller to make room for Chapman, and that the plan is to keep this potentially legendary trio of relievers together. This puts to bed the notion that the Yankees would flip Miller for more organizational depth.
He also noted that he's not going to be trading for another starting pitcher, calling his rotation "full." One of last year's six starting pitchers will have to slide into the 4-5 slot in the bullpen. It could be Nova, or it could be Sabathia; it could even be Severino. The bullpen should be sufficiently stocked, though they may want to consider adding one more arm.
There's a realistic chance that Chapman, who will turn 28 before Opening Day, could be a part of the organization's on-the-fly rebuild. If he is barred from baseball for 40 or more games, he will hit arbitration one season later, making him a free agent in 2017. While Cashman has been reluctant to hand out long-term deals to players entering their thirties, he might see a four or five year deal for Chapman as smart and plausible. If our PECOTA projections hold up, he'd certainly be worth big money. And, as is known around the globe, the Yankees will be able to afford him.
Lead photo courtesy of Charles LeClaire-USA TODAY Sports