By all accounts, aging sucks. At its core it's a process by which you systematically lose all that's dear to you over a relatively lengthy period of time.
First you lose your innocence, which is a bummer. Then your hair goes. Next comes a time when you're losing your keys on a daily basis, and eventually you've lost control of your bodily functions. Last but not least, your mortal coil is gone. There are undoubtedly some skipped steps in there, but those are the basics.
One of the places where we find ourselves observing aging the most closely is in professional sports. Because the athletes compete at such a high level, even the slightest effects of aging can rob them of their abilities in short order. Free agent contracts are often disastrous because of nothing more than the mundane aging process that affects all human beings.
As far as the New York Yankees are concerned, it is easy to see the effects of advancing years everywhere you look. Although the team is making some effort to get younger, this is still a club of relative greybeards, most of whom have seen much better days.
A perfect example is Carlos Beltran, who has gone from one of the best defensive players of his era in center field to a guy who ought to be playing out his career as a still-productive designated hitter. It's a pretty stunning fall from grace in terms of defensive value provided, but it's not unprecedented by any means. After all, the Yankees actual DH, Alex Rodriguez, used to be a Gold-Glove shortstop in his day.
The problem is that the way the Yankees are constructed, Beltran does not get an honorable discharge from playing in the field. Because the team has A-Rod, Mark Teixeira, and Greg Bird, they are committed to sticking him out in right field on a regular basis. In 2015, the results of that course of action were not good. According to Defensive Runs Saved, Beltran cost the Yankees 14 runs in the field—and even the more generous Ultimate Zone Rating pegged him at a -4.5.
At the age of 38, he simply can't get to balls anymore. The chart below shows the plays he made in right in 2015: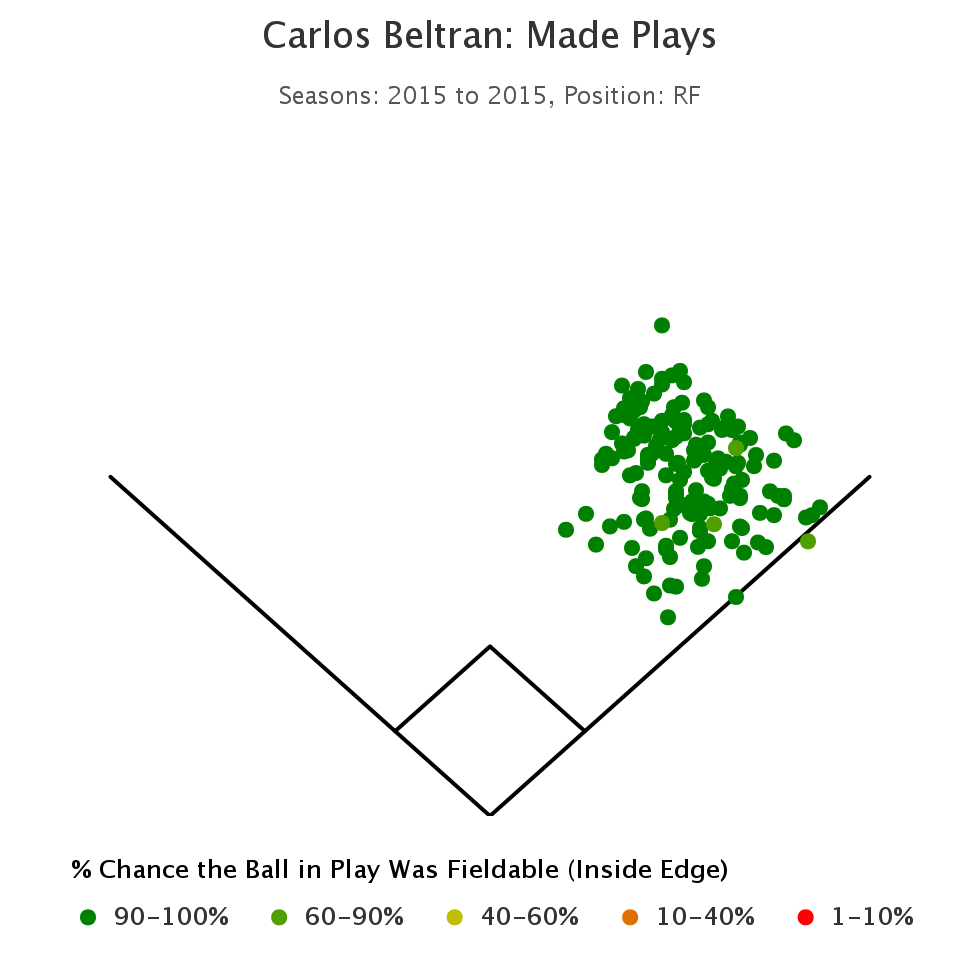 According to Inside Edge, Beltran didn't make a single play that less than 60 percent of right fielders would have made. Even accepting his seriously diminished skills, it seemed far-fetched that he wasn't able to deliver one highlight-reel snag. So, I dug into the MLB.com video archives to see if there was even one play where Beltran turned back the clock and made an impressive catch. Below are the top candidates with MLB.com's name for each catch included.
Candidate One: "Beltran's leaping snag"
The title is promising because there is a level of impressiveness implied in the word "leaping", unfortunately the catch itself underwhelms.
Beltran glides over to the ball and his "leap" can't be more than a few inches high. He shows good awareness of where the wall is, but there's not much else to see here.
Candidate Two: "Beltran makes diving catch to rob Lowrie"
Another very solid title, another disappointing play.
There is undoubtedly some nifty work here going to the ground, but the commentator specifically says there's a "late jump" by Beltran and this is a play that is not hard to make. The 38-year-old made it hard with his poor jump and lack of speed.
Candidate Three: "Beltran's nice grab, ends the frame"
This play is named a little more cautiously and context is probably more important here than the catch itself.
To be frank, there aren't many major-league right fielders incapable of running in and make a basket catch at knee level. Highlight reel material this is not.
Candidate Four: "Beltran reaches up for a nice catch in right"
Another perfect deployment of the word "nice" to deflate expectations.
These type of catches are harder to make than it might appear, but the jump component here is pretty pitiful and this is not a catch that anyone is talking about the next day.
Candidate Five: "Beltran retires Betts with a nice catch"
Nice strikes again and it's starting to feel almost patronizing to the old man at this point.
Beltran is apparently battling the lights here so there's an added degree of difficulty, but you wouldn't see this on Kevin Kiermaier's top catches of the season.
Realistically speaking, that's about it. MLB.com may have missed something, but those guys are pretty thorough and combined with the Inside Edge data it seems safe to say Beltran didn't make a single special catch in 2015.
There's not necessarily anything wrong with that, Beltran's career has evolved to the point that he's essentially a bat-only player. However, with aging superstars there's always the hope that once in awhile they can demonstrate what made them great in their youth as they approach the end, even if the can't do it with any kind of consistency.
Unfortunately, last season Beltran wasn't able to do that, even once.
Lead photo courtesy of Noah K. Murray-USA TODAY Sports