For those of us that have never played major league baseball, there are some experiences within the game that are difficult to imagine. In most people's lives their biggest professional moments aren't so easy to pinpoint nor do they come in front of thousands of people with millions more watching at home.
It's very unlikely that you've had a moment at your job that feels the way hitting a home run to win the World Series feels. Joe Carter's career highlight is better than yours. It might not be as meaningful, as he was just playing a child's game for people's entertainment while you might have figured out a way to use jellyfish cells to cure bronchitis, but it was better. A lot of times bronchitis isn't even that bad anyway.
The big moments aren't the only aspect of playing professional baseball that are difficult for the layman to conceptualize. Merely standing in against the average pitcher pumping low 90's heat would be a pretty scary experience for a lot of people. Trying to chase down a fly ball in the gap is well beyond the skill set of the vast, vast majority of the population; even those who love watching the game on TV. Most human beings would be hilariously out of their depth if they were inserted into a major league lineup for just one day.
Fans are well aware of this and for this reason they enjoy watching MLB players when they are out of their depth and seem more human. Everyone loves watching Bartolo Colon hit. Any position player that comes in to pitch can expect a massive ovation from the home crowd even if their team is being blown out. People like to see these superstar athletes be brought down to their level. It sounds malicious, but really it's all in good fun.
The most common way for major leaguers to appear out of their element is when they are asked to appear in positions that they aren't suited to like in the examples above. However, another way for this to happen is when they are simply dominated by a superior opponent. Usually this takes the form of a pitcher, as pitchers have the ability to make hitters look not just bad at their jobs, but downright silly.
As it happens the New York Yankees have a pitcher who is pretty good at doing just that by the name of Dellin Betances. Betances is the kind of player who makes excellent hitters look like accountants recruited off the street before the game. Not only does he have impressive stuff, but he is an imposing figure. Keeping in mind that I'm neither telepathic nor a trained psychologist the following image is my understanding of what hitters see when Betances takes the mound.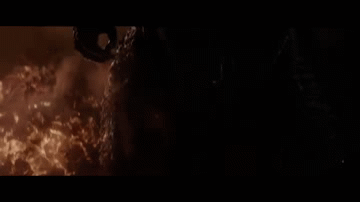 Not to be dehumanizing or anything, but he is a terrifying monster with an insatiable hunger for outs. His stature is both a psychological weapon and it gives hitters a different look with a higher release point. If Betances were shorter he would not be the same pitcher, and considering that the pitcher he is right now is unbelievable that wouldn't be for the best.
Last season Betances allowed hitters a dismal .157/.266/.244 line in 332 plate appearances, good for a .512 OPS against. The worst OPS posted by any qualified hitter in 2015 was .587. Betances makes people worse than the worst of the worst.
Does that mean he's unhittable? Of course not, anyone can be beaten and back in June I took a stab at a how-to guide on how to get to him. However, it does mean that you might need to think outside the box a little bit. How do you defeat a leviathan that you can't overpower? You use stealth and speed, as demonstrated by the utterly forgettable bug-like monster from the most recent Godzilla movie.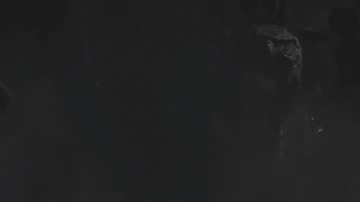 It's important to note that it is both illegal and a logistical nightmare to try and fly up behind a pitcher in the middle of a major league baseball game and stab them with your razor-sharp talons. However, there is an equivalent to this action in baseball known as the stolen base.
As it turns out Betances is very vulnerable to the running game, largely because his pitching motion requires him to uncoil all 18 of his massive limbs.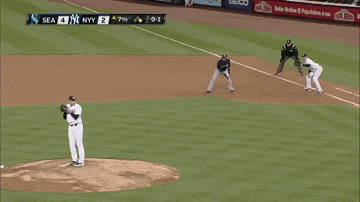 While he has good velocity, he'd have to be throwing 150 mph to compensate for his slow delivery. Last season he was the easiest reliever in baseball to steal off of and it wasn't particularly close.
| Reliever | Innings Pitched | SB Allowed | SB Allowed Rank (All P) |
| --- | --- | --- | --- |
| Dellin Betances | 84 | 17 | T-15th |
| Tommy Hunter | 60.1 | 10 | T-43rd |
| Ryan Mattheus | 56 | 10 | T-43rd |
| Arquimedes Caminero | 74.2 | 9 | T-58th |
| Jared Hughes | 67 | 9 | T-58th |
| Keone Kela | 60.1 | 9 | T-58th |
| Hector Rondon | 70 | 8 | T-69th |
| Blaine Boyer | 65 | 8 | T-69th |
| Neil Cotts | 63.1 | 8 | T-69th |
| Chad Qualls | 49.1 | 8 | T-69th |
While he did pitch more innings than his bullpen colleagues, he was still the easiest to run on here on a per-inning basis and he allowed fewer base runners as well.
Combining this information with what we already know the conclusion is clear. There is no excuse for not running on Betances. Hits are scarce, bases are valuable, and running is easy. Not only have base thieves accumulated many steals against the tall right-hander, they've done so very efficiently only being caught 19 percent of the time in his career.
Getting on base against Betances is a blessing, and if you reach first there's a good chance luck was on your side whether it was a weakly-hit ball falling in or a favorable call or two from the umpire. In life we are often told that we shouldn't push our luck, but when facing the Yankees' bullpen ace the opposite is true. Opponents needs to seize the day and push their luck as far as possible because by doing so they are exploiting the only real weakness Betances has.
You have to take any victory you can get when you know more often than not it ends like this: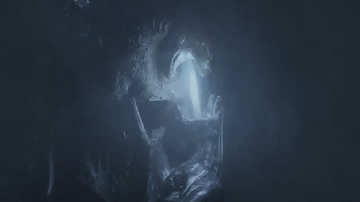 (Photo: Adam Hunger-USA Today Sports)