Didi Gregorius loves to swing the bat.
It's easy to make this kind of statement with confidence because he's a professional baseball player who takes hundreds of at-bats per year. If he didn't enjoy swinging a bat he probably would have sought out a different vocation.
However, the shortstop's actions on the field demonstrate he gets a warmer, fuzzier feeling from gripping it and ripping it than most. His walk rate of 5.1 percent ranks 86th among the 110 hitters with at least 550 plate appearances this season. His swing rate of 52.1 percent ranks 18th. Joey Votto he is not.
By and large that's OK, not everyone can be Votto and patience isn't everything. Over the course of the 2015 season Gregorius was moderately successful at the plate, and as a glove-first shortstop that will do just fine. However, his aggressiveness is a noteworthy component of his offensive profile, arguably the most noteworthy one.
There is one place where this tendency to pry the bat from his shoulders is particular noticeable, which is when he finds himself in two-strike counts. This is not particularly unusual as having two strikes necessitates more swings to protect the plate. Watching a pitch go by can result in an instant out and no competitor likes to go out that way.
Gregorius in particular does not like to walk back to the dugout without giving it the old college try. The 25-year-old saw 594 two-strike pitches this year, the chart below from Baseball Savant shows what happened on those pitches: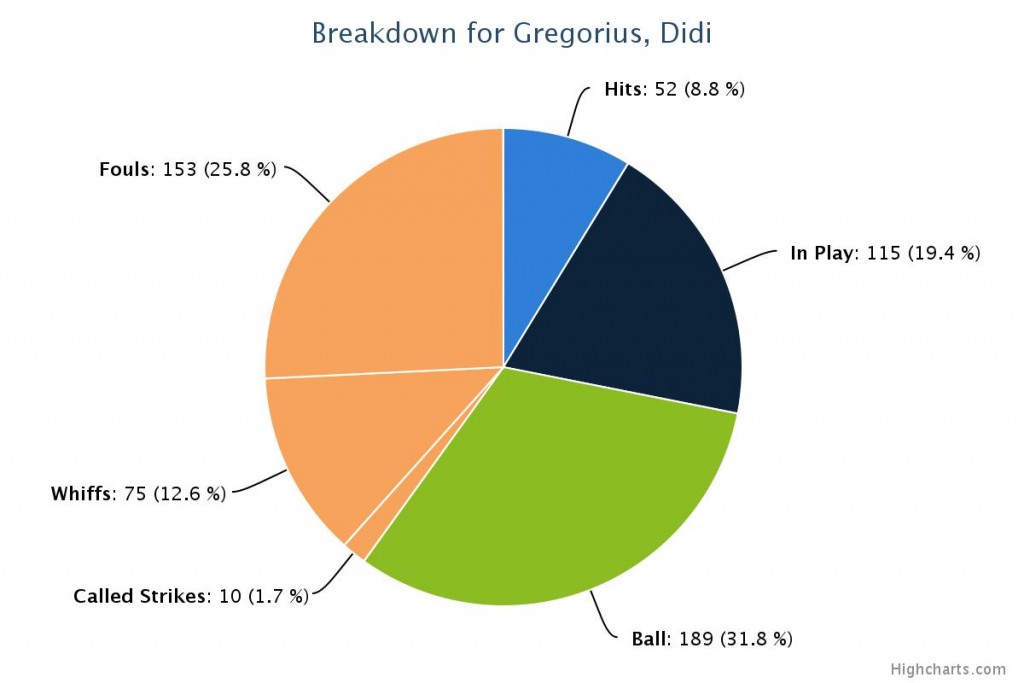 When he's got two strikes on him Gregorius swings 68.2 percent of the time. When he does take a pitch it is a ball 94.9 percent of the time. As a result over the course of the entire season he's been called out on strikes only 10 times. Only five hitters with 550 plus plate appearances have fallen victim to the backwards "K" less.
So, if your goal was to freeze Gregorius, how would you go about it? Considering the sample we're working with is literally 10 pitches the answer is "who knows the information we have tells us nothing". If we go back to the duration of Gregorius's career we see he has struck out looking 34 times, that's a little better, but still rather silly.
For what it's worth 27 of those pitches have been fastballs, cutters or sinkers, and most of them have been down, especially down and away.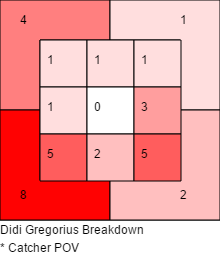 Once again, this isn't remotely predictive. We know that Gregorius almost never strikes out looking, so out of curiosity it's interesting to know what that has looked like. However, a picture is only worth a thousand words, but a GIF is worth 3,843,972. This is the ideal pitch to freeze Gregorius: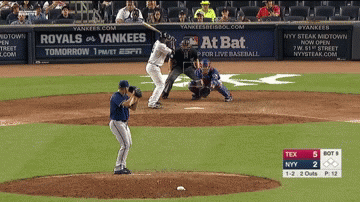 It's perfect because it's a fastball on the black and the Yankees shortstop is just a human man. He would end up arguing this call with the umpire suggesting that taking this pitch was a conscious decision. For Didi Gregorius that kind of choice is a rare one.
After all, he loves to swing the bat.
(Photo: Brad Penner-USA Today Sports)