There are a lot of cliches in baseball, a staggering amount really. I don't think it has much to do with the game itself, simply how long it has been around. As decades have passed more and more nuggets of conventional wisdom have filled out the shelves of our collective consciousness like old VHS tapes.
When we started to reach critical mass with these cliches, one thing the sabermetric revolution was kind enough to do was sort them for us. Pioneers of a statistically-inclined nature boldly ventured into our mental garages and went through each and every VHS to see which ones were worth keeping.
As it turned out some of the tapes were still plenty good. The wisdom of crowds is a thing, and more often that not people who had dedicated their life to the game knew a thing or two about it, even if they didn't express that knowledge statistically. Managers tended to make more or less sound baseball decisions before they had charts or tablets in the dugouts.
Last night when watching the AL Wild Card Game one baseball cliche in particular came to my mind, one of the better ones. I'm not sure if it's worth buying a VHS player again for, but so little is nowadays. I'm not entirely certain if it was said during the broadcast aloud, but it doesn't really matter because it's been said so many times before:
"You only get one or two chances against an ace."
It's a thought that is articulated in many ways, but that's the basic idea. It makes perfect sense as well. Top-flight starters allow fewer base runners and as a result you get fewer opportunities to do real damage against them.
Last night the New York Yankees went up against an ace in Dallas Keuchel. Sure, he was pitching on three-days rest and sure he was away from Minute Maid Park where he has been so successful, but he is a true ace by any sensible person's definition.
As a result, the Yankees didn't get many chances. In fact, they went 0-2 with runners in scoring position all game, including three innings against relievers. However, they did get one opportunity to change the face of the contest, and it came on Keuchel's final pitch.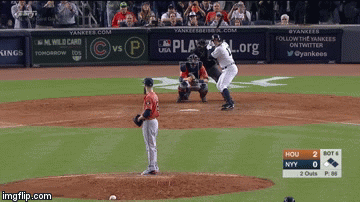 Now, I'm not a big fan of ESPN's constant strike zone display, but in this case it gives us a really good idea of what went on here. Keuchel is trying to jam Alex Rodriguez inside with a cutter. Instead he leaves an 87 mph pitch right over the middle of the plate. It's slightly higher than the traditional meatball, but not by much.
At this point the Yankees have something going for really the first time in the game with two men on. At the plate they have in Rodriguez a guy who's hit .263/.394/.532 against left-handed pitching during the regular season, even if he wasn't at his best down the stretch. Perhaps most importantly, one of the very best pitchers in the game, who may be tiring considering he's pitching on short rest, has delivered a deliciously hittable pitch.
That was the Yankees chance. Right there. It's not as if Rodriguez puts that pitch over the wall 75 percent of the time, but he does a fair amount of the time, or he drives it to the alley for a double that ties this up, or he even keeps it going with a sharp single. That's a ball he can and should drive.
On Tuesday night he didn't. He got out in front of the pitch a little bit and hit a harmless fly ball to center field.
None of this is to say that the Yankees' loss is his fault. The team should have created more meaningful offensive opportunities. They shouldn't have had to capitalize on their one chance to the fullest to win. But in this case they did need that, and Rodriguez was unable to deliver.
The Yankees learned the hard way that aces really can give you one chance, which is especially hard to swallow in a game that was itself one chance to advance in the playoffs. Not all cliches in baseball are created equal, and they can definitely create clutter in your brain and inane rants from commentators, but that doesn't mean you should throw out all your old tapes.
(Photo: Adam Hunger-USA Today Sports)