The joy of baseball lies in its unpredictability.
The g**damn frustrating joy of baseball lies in its predictability.
In 2015, when opposing batters swung at the first pitch off Masahiro Tanaka, they slugged .508 with four home runs.
In September/October, the Yankees offense ranked last or second-to-last in the AL in batting average, on-base percentage, and OPS.
In two regular season starts, Dallas Keuchel dominated the Yankees. In 16 innings, he held New York batters to .161/.175/.179, while striking out 21 and walking just one.
Of course, each trend represents a small sample size, largely irrelevant in a one-game, winner-or-go-home scenario.
On Tuesday night in the Bronx, though, all three trends would continue in the AL Wild Card game between the Houston Astros and New York Yankees. The Astros would jump all over a couple first pitch mistakes against Tanaka, and the Yankees hitters could not advance past second base against Keuchel and three Houston relievers. A 3-0 Astros victory never really felt in doubt.
Tanaka had struggled in his only previous start against the Astros in 2015. On June 27 at Houston, he needed 98 pitches to get through five innings, allowing six earned runs and nine base runners. On this night, his final line (5 IP, 4 H, 3 K, 2 BB, 2 ER) was adequate, and good enough certainly to keep the Yankees in the game.
Tanaka started off strong, striking out Jose Altuve and George Springer to open the game. On 3-and-2 against Altuve, Tanaka came with an 88 MPH cutter on the outside corner for a swinging strike three. Prior to this at-bat, Altuve had never struck out against a cutter from a right-handed pitcher.
Colby Rasmus got the scoring started on the first pitch of the second inning, launching an inside fastball into the right field bleachers. This season, Rasmus hit 18 of his 25 home runs against right-handers (along with a .476 slugging percentage and .243 ISO). He also hit three home runs and slugged .957 on the first pitch. And when right-handers came over the inner half of the plate, Rasmus did considerable damage: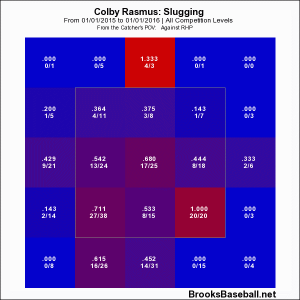 Throw in Tanaka's 2015 first pitch struggles mentioned above, and it is easy to understand why A.J. Hinch penciled Rasmus into the cleanup spot.
Carlos Gomez's homer on the first pitch of the fourth inning stretched the Astros lead to 2-0. Gomez's struggles once he arrived in Houston were well documented (.242/.288/.383, .241 TAv), but despite his second half difficulties, right-handed pitchers did not fare well at the top of the strike zone in 2015: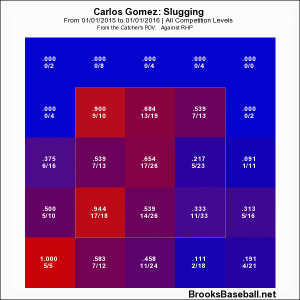 The Astros would add another run in the seventh inning, when Altuve got the bat head on a Dellin Betances curve that was halfway to the Yankees dugout, and dumped it into left field for an RBI single.
Offensively, October 6 looked eerily similar to October 4 and the preceding month. The Yankees had just five base runners (three hits and two walks), and not one advanced past second base. Four Astros pitchers retired the final 10 hitters. For the first time since mid-August, the Yankees failed to produce an extra base hit at hone.
Much of the talk before the game was focused on Jacoby Ellsbury starting his night on the bench. However, Ellsbury's 2015 production against left-handed pitchers (.253/.327/.325), along with a brutal September (.202/.254/.246 in 123 plate appearances), made him a seemingly easy sit against Keuchel.
Brett Gardner, who also struggled in the season's final month (.198/.271/.321), was actually above average against left-handers (.276/.361/.400). Gardner struck out three times against Keuchel, and looked uncomfortable at the plate. His eighth inning groundout brought with it a cascade of boos from the home crowd.
The Yankees, however, appeared to have a few decent changes in the game's opening innings.
As John Kruk noted in the first inning, Keuchel was missing high early. In 2015, Keuchel threw more innings (232.0) and pitches (3,492) than any pitcher in the AL. He was a workhorse in September, tossing 39.1 innings and 654 pitches in six starts. Just to add to his degree of difficulty, Keuchel was making his first career start on three days rest. 
All of this wear showed early, as he needed 39 pitches to get through the first two innings. The Yankees, however, could not capitalize on multiple pitches left over the plate, managing just a Chris Young walk in the first and Chris Young single in the second. For a team that finished second in the AL in fly ball percentage (37.9 percent) and fifth in home run to fly ball ratio (12.5 percent), the Yankees could muster just three fly balls against Keuchel over six innings. 
Keuchel would settle in, requiring just 33 pitches to get through innings two, three, and four. He needed 87 pitches, allowing three hits and one walk, while striking out seven. 
The Yankees mounted their best threat against Keuchel with two outs in the sixth inning. Leading off, Didi Gregarious bounced a base hit into right field. After a Gardner strikeout and Young fielder's choice, Carlos Beltran lined a pitch left over the plate into centerfield for a base hit. With two outs and runners on first and second, Alex Rodriguez stepped to the plate as the go-ahead run. This season, Rodriguez slugged .559 with four home runs on the first pitch. Against Keuchel, he made good contact, but it resulted in a fly out to center field.
The Bronx again stirred with some optimism when Keuchel left the game after six shutout innings. Astros left-hander Tony Sipp labored with deep counts, needing 23 pitches, but the Yankees offense again failed to advance a runner past second. A one-out Chase Headley walk went by the wayside, as Greg Bird struck out looking on a full count and Rob Refsnyder flied out to right field.
Will Harris set the Yankees down in order in the eighth, including an Ellsbury plate appearance that resulted in a ground out. Within 10 minutes of the game's completion, MLB Network analysts were criticizing Joe Girardi's decision to bench Ellsbury.
Luke Gregerson retired the side in the order in the home half of the ninth, including back-to-back strikeouts of Beltran and Rodriguez. A Brian McCann groundout to Carlos Correa would send the Yankees into the offseason.
The team now turns toward 2016 with plenty of questions, offensively (can Rodriguez, McCann, and Mark Teixeira produce at similar levels and stay healthy?), for the rotation (who are the fourth and fifth starters?), and figuring out why Billy Crystal looked so befuddled.
The Astros, whose 14.9 percent playoff odds on Opening Day was fourth highest in the AL West, will advance to face the Kansas City Royals in the American League Division Series. Like we said, baseball is so darn predictable.
(Photo: Adam Hunger-USA Today Sports)