Despite a shaky return to the Yankees bullpen on Wednesday night, there is no doubt that Andrew Miller is extraordinarily good at his job.
Being good at your job–or at least being perceived to be good at your job–is normally a pretty basic prerequisite for signing a four-year $36 million dollar contract. Miller doesn't have to rely on faulty perceptions, he is very much the genuine article.
Coming off a season where he posted a 2.2 WAR total–the seventh-best total among relievers–he's been just as good this year. Miller has a 1.65 ERA to his name and he's struck out 40.4 percent of the batters he's faced. There are other numbers to reinforce the notion, but they aren't really necessary at this point, everyone understands that Miller is great.
That being said, there isn't anything very profound about identifying which players are really good. As analysis goes that is both easy and boring. What's more interesting is examining what makes them especially effective. For Miller that's not really a mystery.
Tall hard-throwing southpaws with world-class sliders don't grow on trees. Miller is one of these human beings. He is an intimidating presence with very easily identifiable assets and the fact good results have followed him in recent years are not remotely surprising.
However, there has been one thing Miller has been doing that's setting him apart this season: dominating the areas outside the strike zone. This seems like a counter-intuitive idea because we are always told that pitchers are meant to pound the strike zone and throw as many strikes as possible.
The problem is that the idea of "pounding the strike zone" is overly simplistic. If pitchers threw exclusively strikes they would get absolutely shelled because major league hitters are really good at thrashing baseballs placed there, in part because that's the career they've chosen.
It's important for pitchers to also pitch around the zone to try and get their opponents to chase their way into poor contact and whiffs. It's here that Miller excels. His ability to make hitters swing at pitches outside the zone isn't actually particularly unusual as it hovers near the league average around 30 percent.
However, when opponent's do swing outside the zone they're comically unsuccessful, especially when it comes to making contact. They've only had a harder time each year since he took up full-time relief in 2012.
| Year | O-Zone Contact% Against | MLB Rank (Among RP's) |
| --- | --- | --- |
| 2012 | 67.4% | 84th |
| 2013 | 57.5% | 34th |
| 2014 | 42.3% | 3rd |
| 2015 | 30.9% | 1st |
To be fair it should be noted his 30.9 percent O-Zone Contact Rate does rank behind Carter Capps, but Capps hasn't thrown enough innings to qualify among relievers and is quite literally a pitcher the likes of which we've never seen.
Regardless of what Capps has done Miller has made himself into a guy who you can't chase and make contact with, a development that could have to do with his increased slider usage.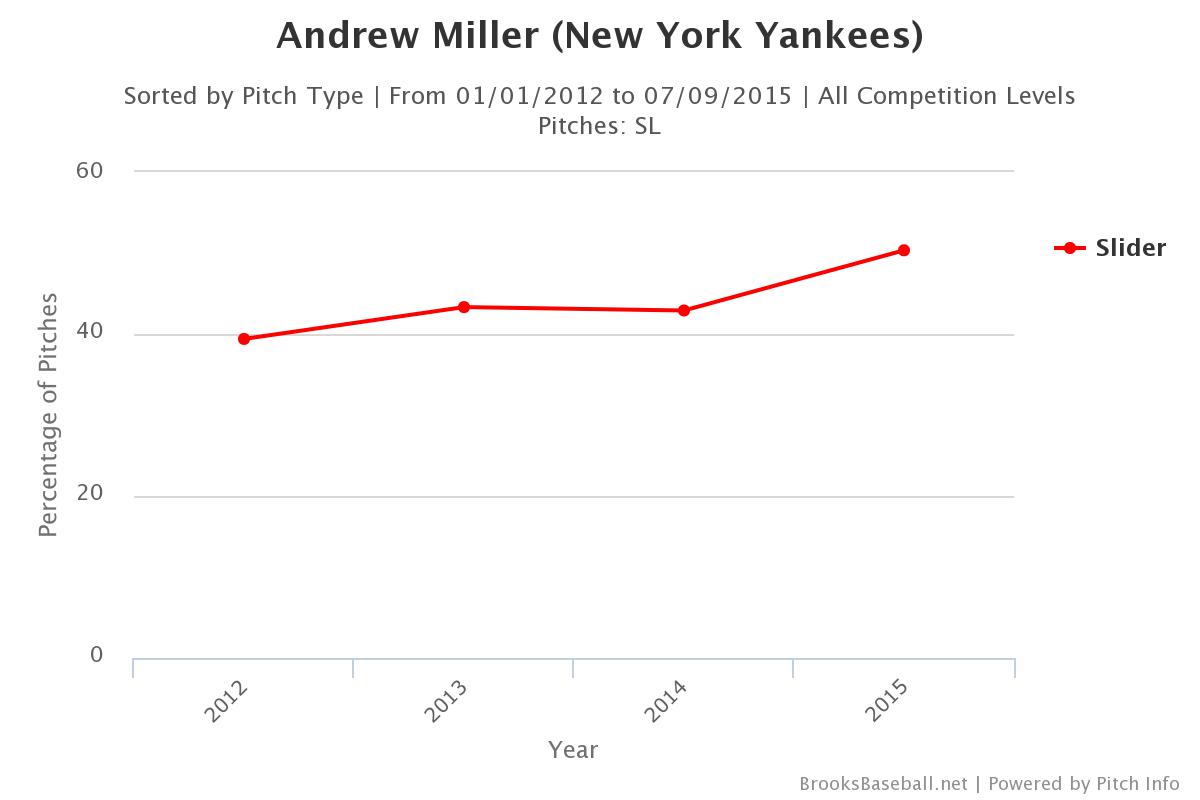 Not only has Miller made it hard to make contact against him outside the zone, when hitters do they can't drive the ball. The sample is tiny this year-in part due to the minuscule contact rate–but the results aren't good.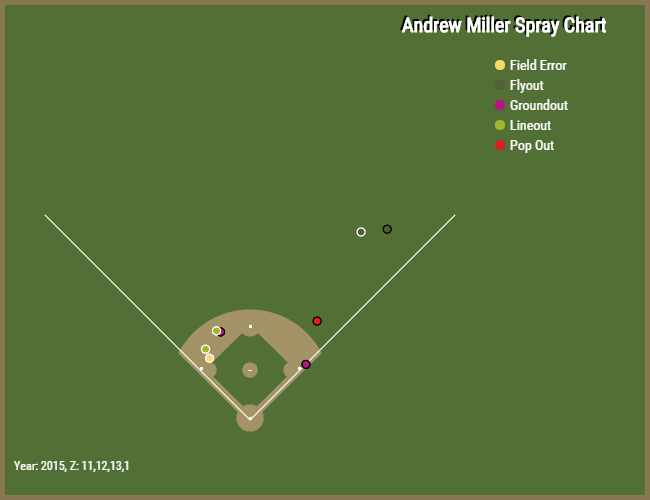 With all of this information in mind the remedy for hitters facing Miller seems obvious. They just need to stop swinging at pitches outside the zone. Unfortunately, the degree to which that's easier said than done is absolutely immense.
Pitchers tend to pride themselves on dominating the strike zone, but working effectively out of it can be an overlooked skill. The average pitcher delivers 54.3% of his offerings outside the confines of the zone, so it really does matter who does it best.
Right now, that guy is Andrew Miller.
(Photo: Adam Hunger-USA Today Sports)