On Wednesday afternoon, the Orioles and White Sox played an absolutely bizarre game at Camden Yards in Baltimore with no one in attendance except for the media and a few scattered scouts. It was obviously played under unfortunate conditions, as the Orioles intentionally closed the gates to ensure the players' safety amid the recent protests in Baltimore. Thus, it created quite unsettling scenes, as the home team played with basically no one supporting them, save for the fans standing near the gates outside the park: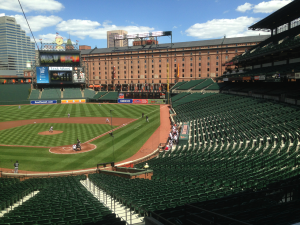 It was officially the first time there had ever been a Major League Baseball game with a listed attendance of zero (or "not given.") However, Yankees fans should be well aware of another time in recent memory when the Orioles played before an essentially vacant crowd. By the official records, the Yankees and Orioles played before 29,093 people on September 18, 2003, but this is what it actually looked like:
There were reportedly only a couple thousand people in the stands at best during this game, which was notoriously played immediately before a tropical storm hit the Charm City. Entering the day's action, the Yankees were a solid 5 1/2 games ahead of the Red Sox, en route to their sixth consecutive AL East title with only 10 games left to play. The city of Baltimore was almost entirely shut down with Hurricane Isabel mere hours away from wreaking havoc.
The sole reason for the teams playing in such bizarre conditions? A money grab. The Orioles were in the middle of their disastrous stretch of 14 consecutive losing seasons and owner Peter Angelos was pretty much determined to reap as much profit possible from their 81-game home schedule. Baltimore was a nightmarish 68-83 entering that chaotic Thursday, and any profits from that game would only be redeemed by the O's if they were at Camden Yards. The start time was moved up from 7:05 to 12:35 to try to beat the storm, and throughout it all, the Yankees were understandably furious that they had to play baseball while a friggin' hurricane prepared to hit Baltimore.
Mariano Rivera
"I was like, 'What are we doing?' They didn't care about you; that's what they showed me. They really didn't care about us. They just wanted to play the game even though there were like 20 or 30 people here."
Derek Jeter
They're canceling everything around here—schools are canceled, the government left, the Navy's pulling out, and the Orioles and Yankees are playing baseball.
George Steinbrenner
Steinbrenner issued a statement that said the commissioner's office showed "terrible judgment and overall stupidity" in proceeding with the game. "Schools, businesses, athletic events—virtually everything—was called off. And for them to proceed was stupidity at its worst."
Even the players' association was a little confused as to why there was a game played. Gene Ozra, the second-ranked official, chimed in that "the state government and the city government had concluded it was not business as usual," and that they should have cancelled the game while working out "some monetary compensation" for the Orioles.
Nonetheless, the weirdness commenced in front of a scant number of desperate fans for just one hour and 27 minutes. Borderline Hall of Fame pitcher Mike Mussina, both a Yankees and Orioles great who had dubbed it a "foolish decision" to play that afternoon went for his 200th win that afternoon against an Orioles lineup that looked like just the quintessential mid-2000s Orioles lineup:
Brian Roberts – 2B
Luis Matos – CF
Larry Bigbie – RF
Tony Batista – 3B
Jay Gibbons – DH
B.J. Surhoff – 1B
Deivi Cruz – SS
Pedro Swann – LF
Robert Machado – C
Pat Hentgen – SP
Goodness. I'm certain that the Cespedes Family Barbecue guys could write an entire post on that lineup alone. Any time Larry Bigbie bats third, you know a team is in dire straits.
The Yankees wasted a chance to put some runs on the board quickly in the first, as Alfonso Soriano led off the game with a double to left and Nick Johnson was drilled. The former Cy Young Award winner Hentgen didn't have many starts left in his career, but he found a couple strikeouts in his bag of tricks, whiffing a couple MVP caliber hitters in Derek Jeter and Jason Giambi before inducing a comebacker from Bernie Williams to end the frame. He wouldn't be as lucky two innings later, when Giambi belted an RBI double to left, bringing home the OBP machine Johnson (who had walked) with the first run of the game. Give credit to Hentgen though; he struck out Bernie and induced a pop-up from future ALCS hero Aaron Boone to limit the damage.
"The whole city shuts down. The government shuts down. And we're playing. Figure that out." – David Wells
Mussina held his former team hitless the first time through the lineup, but amid the building 35 mph winds and rain, Roberts and Matos smacked back-to-back doubles, with Matos' coming on a bloop down the left field line. In the bottom of the fifth, Mike Hargrove's group had one last shot to get on top and win the game with it about to become official for the home team. Swann, a no-name outfielder who played 17 years in the minors but only managed four hits in 30 career plate appearances in the pros, notched the only double of his career with a smash down the right field line.
Regrettably for the dedicated O's fans who braved the conditions. Swann didn't have much support behind him. The third-string catcher Machado, a far cry from Manny, fanned out quickly on a two-strike foul bunt. However, Roberts was up next, and he was one of the few bright spots in a very dark era in Baltimore. He lined a base hit down the left field line, a huge opportunity for the Orioles to take a 2-1 lead. Then, the 2000s Orioles… well… 2000s Oriole'd:
Roberts then singled to left, and Orioles third base coach Tom Trebelhorn initially waved Swann home. Trebelhorn then put up the stop sign – too late for Swann to make it back to third. He was tagged out in a rundown, and Matos followed with a groundout.
That was all she wrote for the actual game. By this point, the rain was clearly causing a mess and home plate umpire Rob Drake told the grounds crew to go ahead and put the tarp on the field. The Yankees bolted to the buses to skip town, and that was that. To date, it remains the last tie in franchise history.
Although the game counted in the standings, the two teams made it up anyway in doubleheader on September 26th, one of the final days of the regular season. Thus, this strange tie did lead to one quirk. Hideki Matsui holds the record for most games played in a season in Yankees history with 163 since he was in the middle of his consecutive games played streak that dated back to his days in Japan.
So on behalf of "Godzilla," thanks for that I guess, Peter Angelos. May uncomfortable games like this hurricane-shortened tie and the eerily empty Orioles/White Sox affair the other day never happen again.
Photo credit: Bob DiChiara-USA Today Sports